Types of Rum
Rum 101: Why You Should Give the Slandered Spirit a Second Chance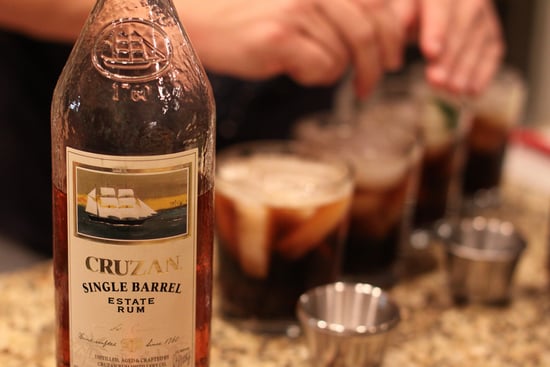 Think all rum is sugary rubbish that practically instills a hangover just from glancing at its bottle? Think again; not only is rum one of the most diverse spirits out there — meaning there's a rum that'll please nearly any palate — but it's also cocktail-friendly and packs a lot of bang for its buck, largely due to the misguided assumption that it's all frat-boy fodder. While one could write a book on the nuances of this often overlooked spirit — the excellent Rum: A Global History ($17) comes to mind — let's start with some basics:
During the 17th century, rum first came to fruition as an accidental byproduct of sugar processing in the West Indies. Sugar plantation slaves quickly discovered its intoxicating benefits. Since then, the production methods have been refined, leaving us with the nuanced spirit available today.
In the US, rum is defined as a spirit, distilled from the fermented juice of sugar cane, sugar cane molasses, or other sugar cane byproducts. It ranges in strength from 40 to 95 percent alcohol by volume.
Nearly every country in the Western Hemisphere produces a brand of rum, leading to a vast diversity in both flavor profile and price point.
Keep reading for a breakdown of the most common categories of rum.
White or light rum is the lightest in both color and flavor. It goes through a charcoal filtering which strips away impurities and any residual hue and is generally aged only briefly (Flor de Caña is one exception). White rum is most commonly consumed in mixed drinks like the Hemingway daiquiri, mojitos, and piña coladas.
Dark or aged rum is distinguished by its moody, caramel hue and molasses-like flavor, which partly comes from skipping the filtration process used for white rum. In addition, dark rum is stored in used whiskey casks, which add to its signature intensity of color and taste. Typically aged longer than white (though less than most aged spirits), dark rum is a go-to choice for drinking neat, "watered" (a few drops of water are added to the glass to open up the flavor), or in cocktails like dark and stormys, hot buttered rum, and many tiki drinks. It's also a go-to spirit for flambéed applications like bananas foster.
Spiced rum gets its characteristic spicy flavor from — you guessed it — spices, and can be made from either dark or light rum, though generally speaking a dark rum base is preferable. Some common additives include ginger, vanilla, allspice, cinnamon, and cloves — though the variations are near-endless.