Despite the growing number of chain restaurants across America, regional cuisine remains as vast as our continent is wide. Some may travel far distances just for a taste of authentic, iconic state dishes, but to know the history behind their creation is another story. For instance, do you know who invented the first Philly cheesesteak? How about the California Cobb salad? We've gathered 50 dishes from 50 states [1] to prime you about the dishes you love. Be forewarned: this slideshow will make you hungry.
Jump ahead to:
Alabama through Hawaii [2]
Idaho through Montana [3]
Nebraska through Pennsylvania [4]
Rhode Island through Wyoming [5]
— Additional reporting by Susannah Chen, Nancy Einhart, Lauren Hendrickson, Nicole Perry, and Sara Yoo
Source: Flickr users stu_spivack [6], goodiesfirst [7], garysoup [8], maveric2003 [9], Pete Karl II [10], cyclonebill [11], Francis Bourgouin [12], and Southern Foodways Alliance [13].
Alabama: Fried Apple Pies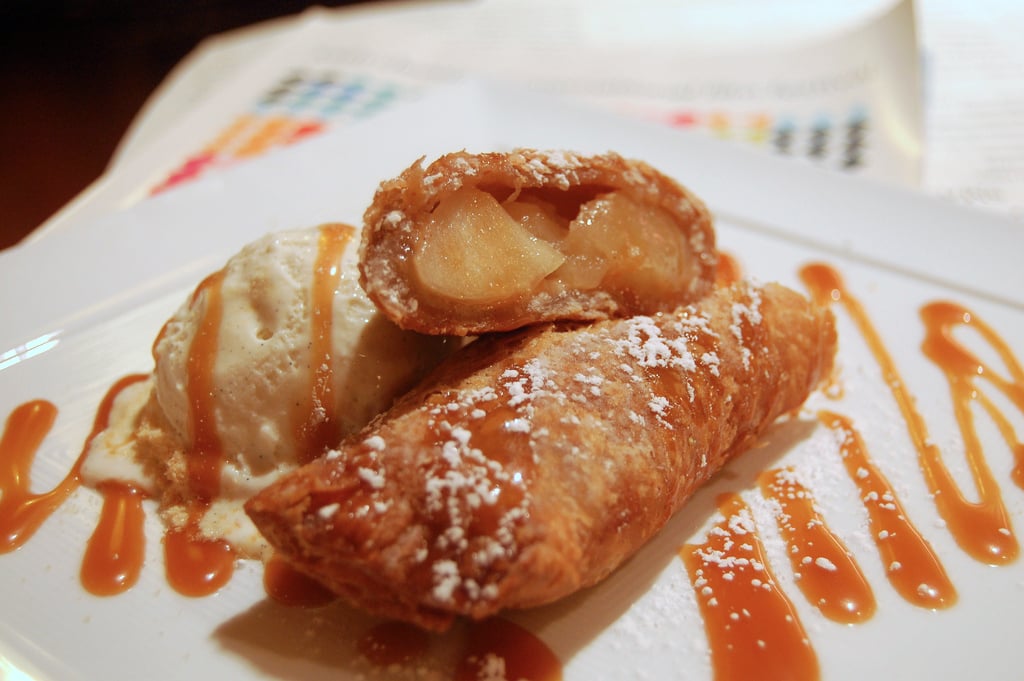 McDonald's can thank the state of Alabama for its beloved fried apple pies. It's said that fried pies originated in Alabama to use up leftover pie dough and fillings. After a hot oil bath, the pies are sprinkled with sugar.
Alaska: King Crab Legs With Butter
Prized king crabs found off the coast of Alaska are expensive due to their scarcity and because king crab fishing is one of the most dangerous occupations in the world.
Arizona: Chimichangas
The Phoenix-based Macayo's restaurant chain started a petition to make the chimichanga Arizona's first recognized state food. Word has it that the chain's founder accidentally dropped a burrito into the deep fryer in 1946, and it's been a Southwestern favorite ever since. It makes sense, given the state's proximity to the Mexican state of Sonora, which is known for its wheat flour tortillas.
Arkansas: Chicken and Dumplings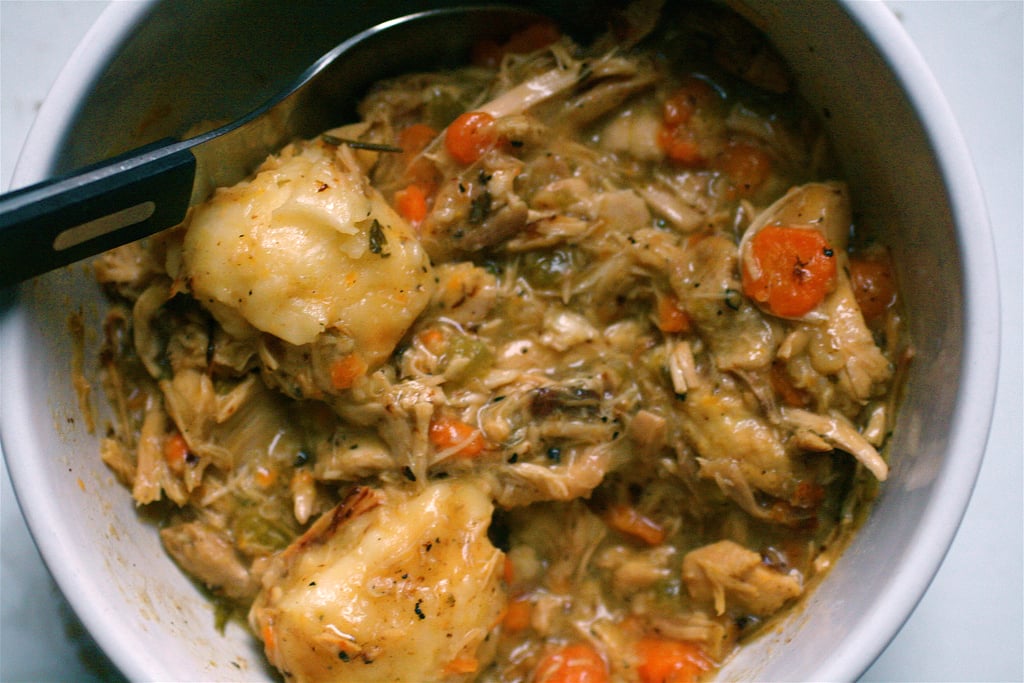 From its world-famous cheese dip to fried pork chops, Arkansas is known for its down-home cooking. We think it's epitomized by the most comforting of dishes: chicken and dumplings. The state cooking vessel is the Dutch oven, perfect for concocting a pot of this stick-to-your-ribs treat.
California: Cobb Salad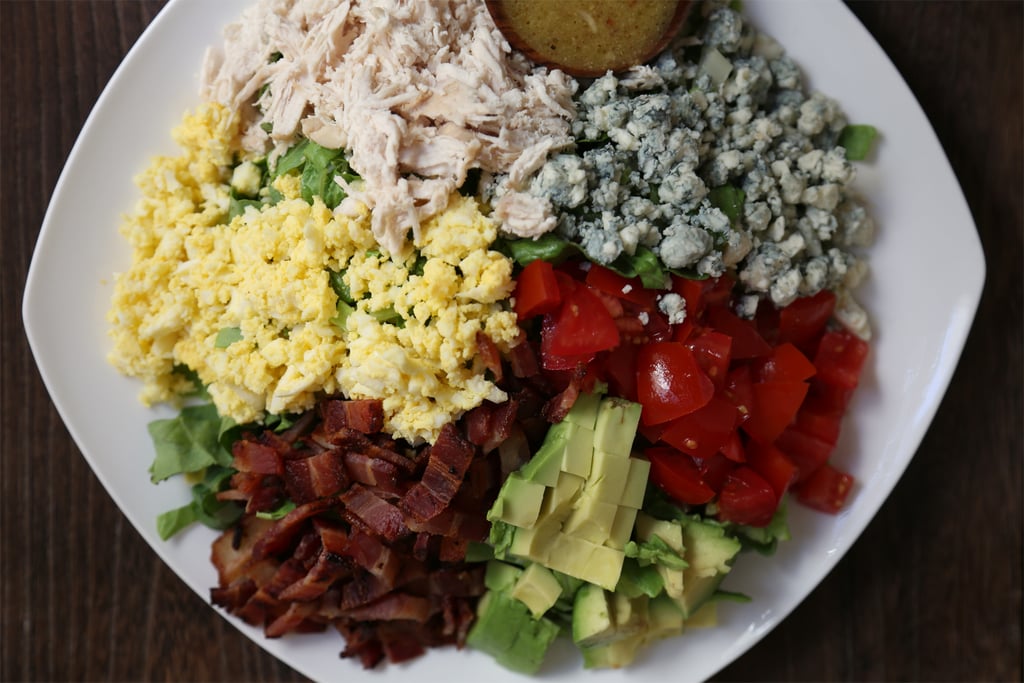 Hollywood's Brown Derby claims to be the inventor of this iconic dish [14] and named it for the restaurant's owner, Robert Howard Cobb. A heaping salad of lettuce, tomato, avocado, egg, bacon, roast chicken, and Roquefort cheese has since been adopted throughout California and the rest of the US.
Colorado: Western or Denver Sandwich
In Colorado's pioneer days, eggs were rare, so settlers would bring them in by wagon, and the eggs would often spoil in the process. To cover up the bad taste, cooks would season them with onions, peppers, ham, and spices and serve them in a sandwich. The Western (sometimes known as Denver) sandwich was born.
Connecticut: New Haven-Style White Clam "Apizza"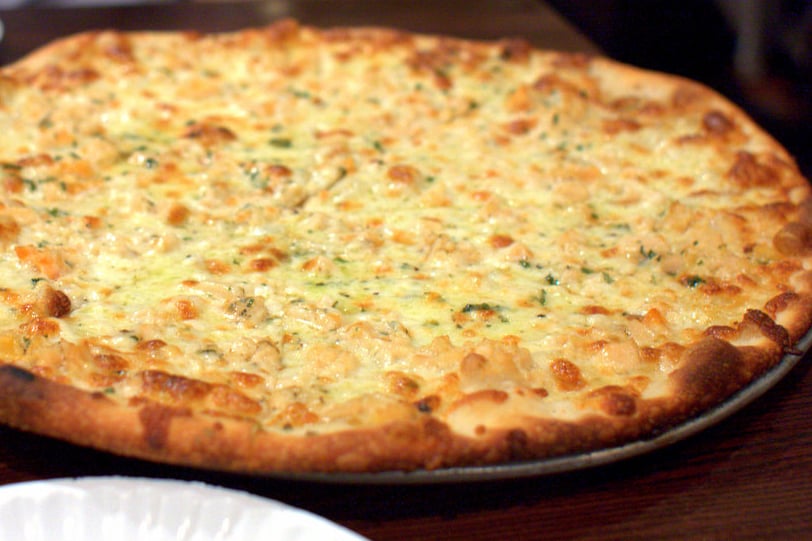 "Apizza" isn't just pizza with an extra letter; it's a style of pizza (descended from Neapolitan) that originated from Frank Pepe Pizzeria Napoletana in New Haven, CT. The first iteration of the pie (still popular today) features a thin crust with tomato sauce and grated Pecorino Romano cheese; mozzarella is an extra. The shop's second variation on this style, the white clam pie, has become so popular it's the signature pie in many pizzerias across the state.
Delaware: Broiled Chicken With Sour-Milk Biscuits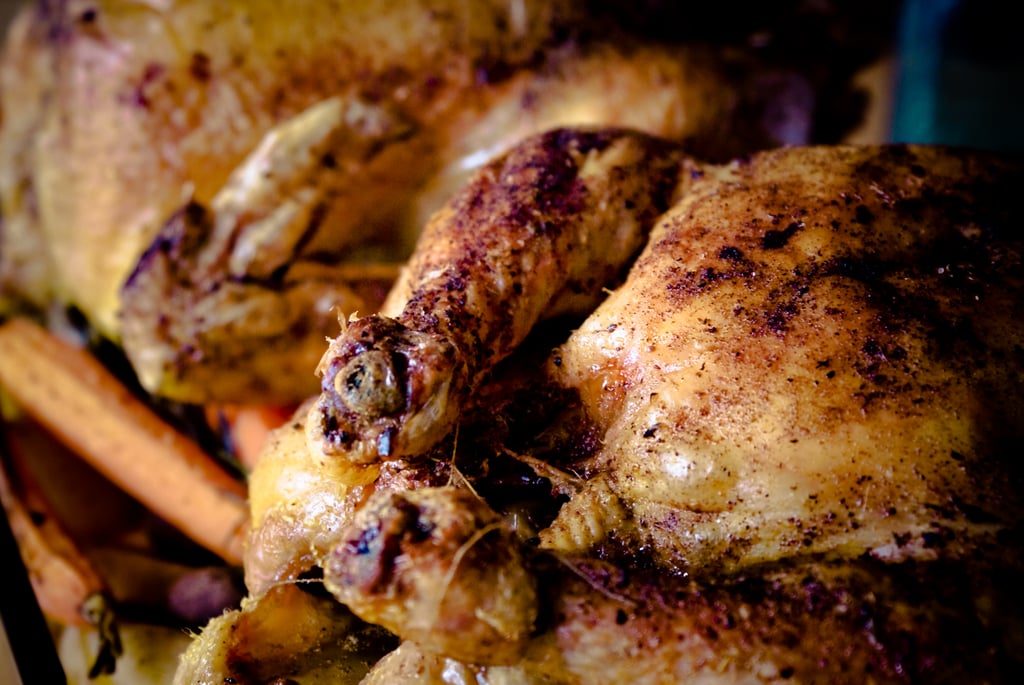 Delaware's Blue Hens don't just compete in athletic endeavors: the chicken from which the mascot gets its name became popular with the debut of the broiler industry in the 1920s, and broiled chicken with sour-milk biscuits became a household dish.
Florida: Sandwich Cubano
The pressed Cuban sandwich featuring roasted pork, ham, pickles, and mustard has become a state icon in culturally diverse Florida.
Georgia: Peach Pie
Franciscan monks introduced peaches to Georgia's coast in 1571, and since then, Georgia has been famous for the sweet, fleshy fruit. Buttery, flaky, and oozing with juices, peach pie is the way to cook overly ripened fruit.
Hawaii: Spam Musubi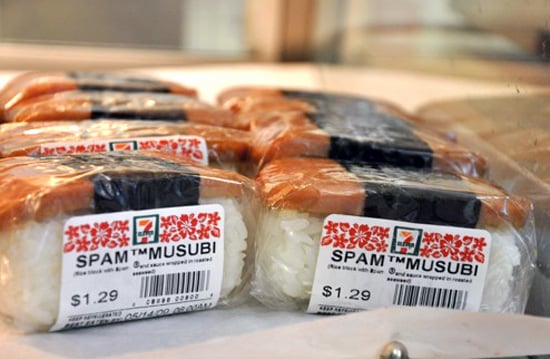 Spam was introduced to Hawaii during World War II and became the staple meat for military troops. The Japanese in the area developed Spam musubi [15], or a thin slice of grilled Spam molded over rice and wrapped with a nori sheet. Convenient and inexpensive, the snack gained popularity and is still widely found and eaten in Hawaii.
Idaho: Finger Steaks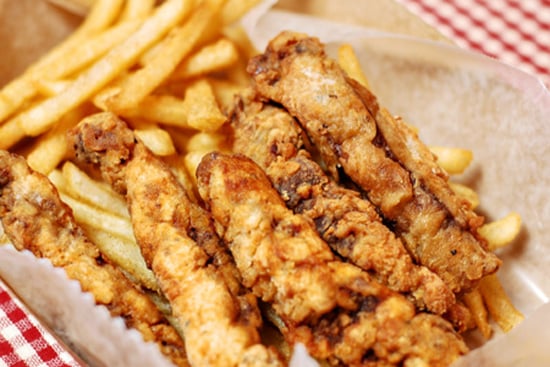 According to legend, finger steaks [16] originated in Boise, ID, in 1957 when chef Milo Bybee of Milo's Torch Lounge found a way of breading and frying leftover tenderloin.
Illinois: Deep-Dish Pizza
In 1943, Chicago's Pizzeria Uno developed the first deep-dish pizza. Rather than a flat crust, a deep-dish pizza has a thick flour and cornmeal pizza crust that is pressed into a deep, steel, pie-like pan. In terms of the toppings, the order of the sauce and cheese is reversed. The cheese is found on the bottom layer, followed by meat and veggie toppings, and finally covered in a chunky tomato sauce.
Indiana: Sugar Cream Pie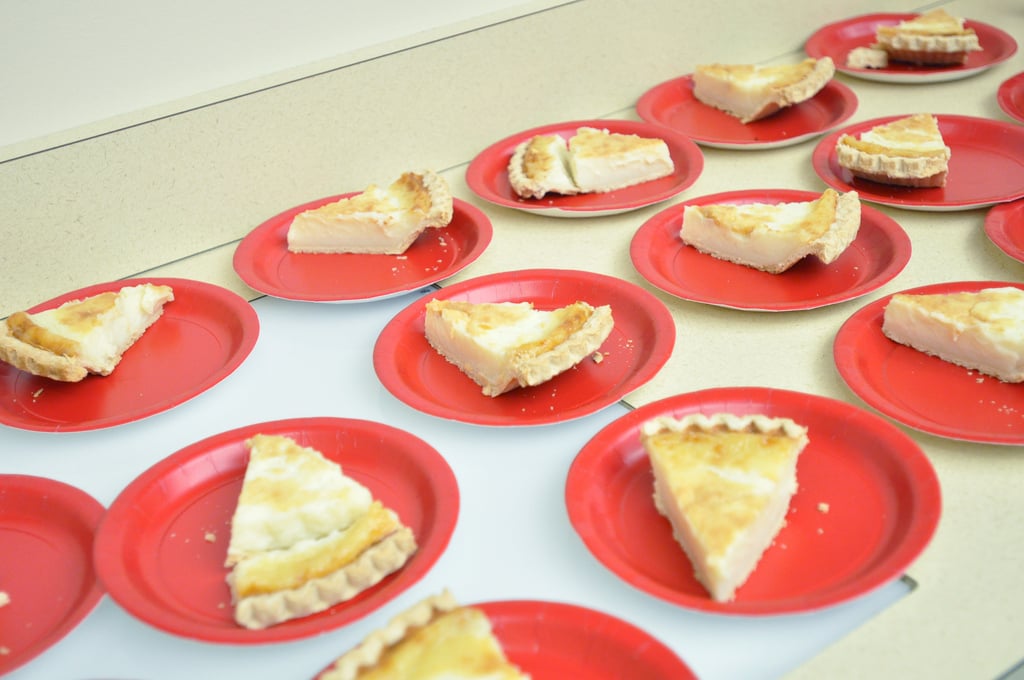 Hoosier pie, also known as Indiana sugar cream pie, has been around since the 1800s. When apples were not available, the Shaker and Amish communities filled the pie crust with vanilla cream and sprinkled it with brown sugar to develop a slightly crunchy topping when baked.
Iowa: Loose-Meat Sandwiches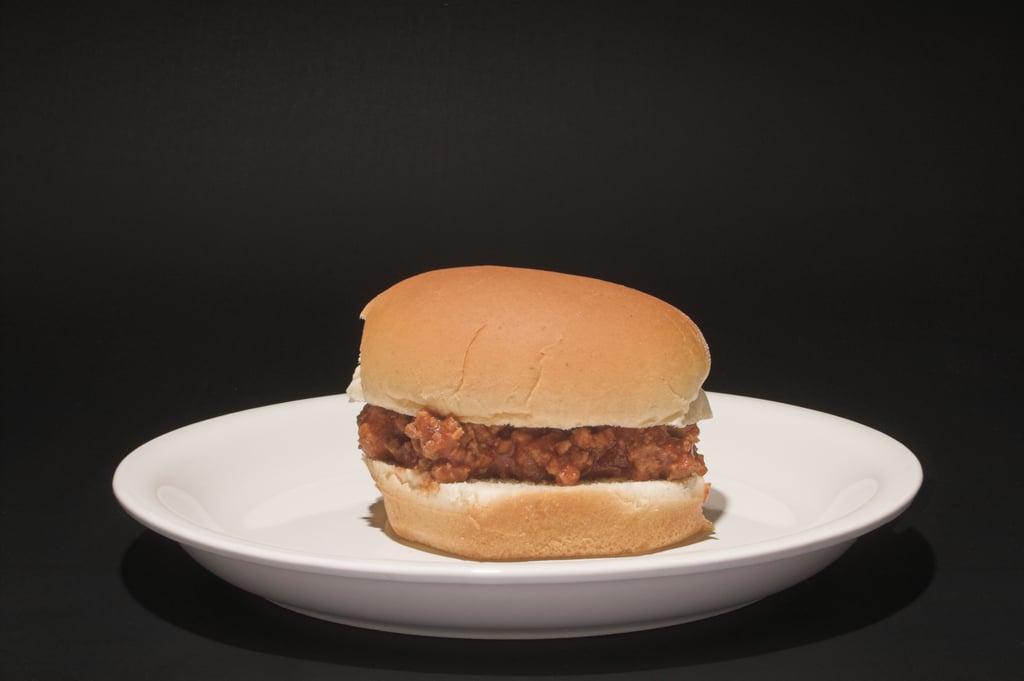 Loose-meat sandwiches originated in 1926, when Fred Angell, a butcher from Iowa, blended spices with Midwestern ground beef to create the "Maid-Rite" sandwich. Legend has it, Fred asked a delivery man to taste the new creation, and the man declared that it was "made right!" The name stuck, and Angell opened the Maid-Rite franchise, with the loose-meat sandwich as its signature menu item.
Kansas: Fried Chicken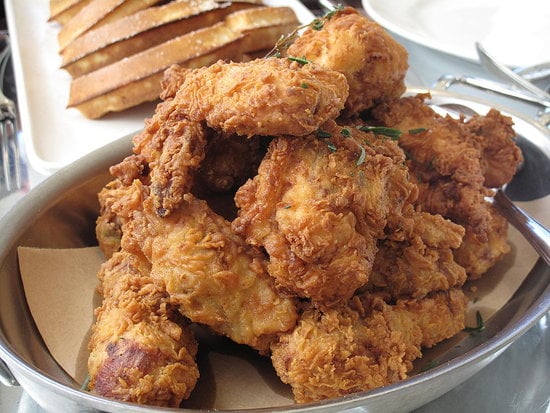 There might be a lot of arguments out there as to who created the first fried chicken recipe. However, Kansas is definitely known for its finger-licking-good fried chicken.
Kentucky: Hot Brown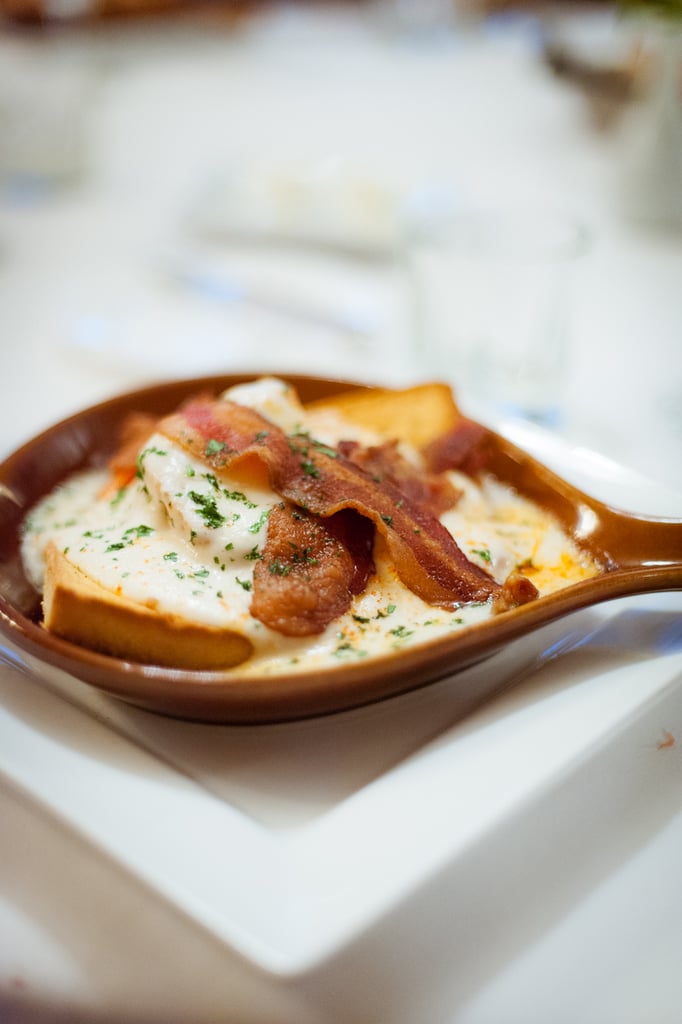 Especially great for giving new life to Thanksgiving leftovers, try the Hot Brown [17]. The Brown Hotel whipped up the first Hot Brown in 1926. The warm, open-faced breakfast sandwich is loaded with roasted turkey, bacon, tomatoes, and Mornay sauce.
Louisiana: Muffaletta
Muffaletta [18] sandwiches are a New Orleans original. Sicilian immigrants living in the French Quarter invented the cold cuts and olive sandwich around 1906. The Central Grocery claims to have developed the signature sandwich, which is at its best when left out for a few hours so the olive salad soaks into the roll, meat, and cheese.
Maine: Lobster Roll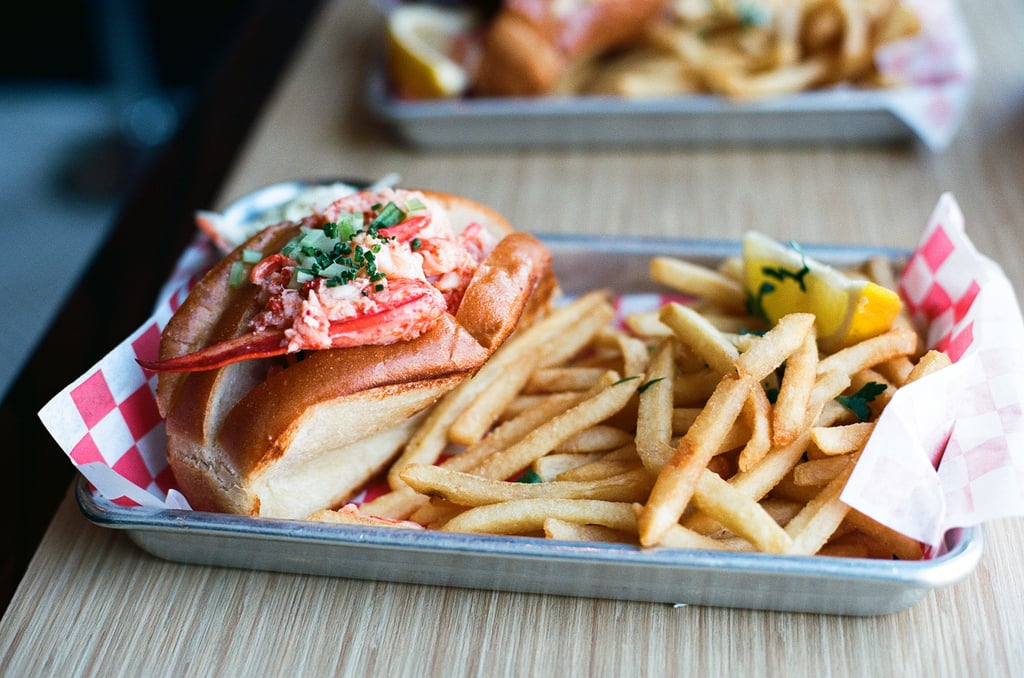 The Maine lobster roll's exact date of creation is not known; however, historians have noted that it must have been after 1912, when hot dog buns began commercial production. While there is debate about whether to butter or smear with mayo and whether to serve hot or cold, most Maine lobster rolls consist of a buttered, grilled hot dog bun with chilled lobster meat. Sometimes (but not always), the lobster is topped with celery, onion, and chives.
Maryland: Crab Cakes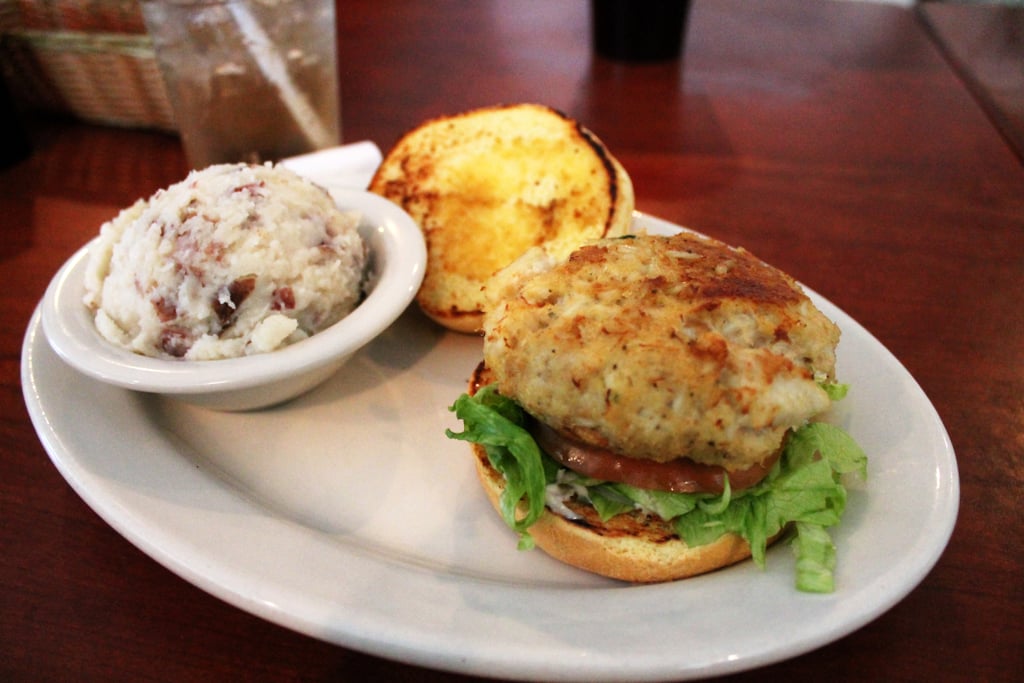 Introduced to the Maryland and Chesapeake Bay area in the 1800s by English settlers, crab cakes [19] are fried crab and breadcrumb patties that, unlike the rest of the states, can be as big as a hamburger.
Source:

Massachusetts: New England Clam Chowder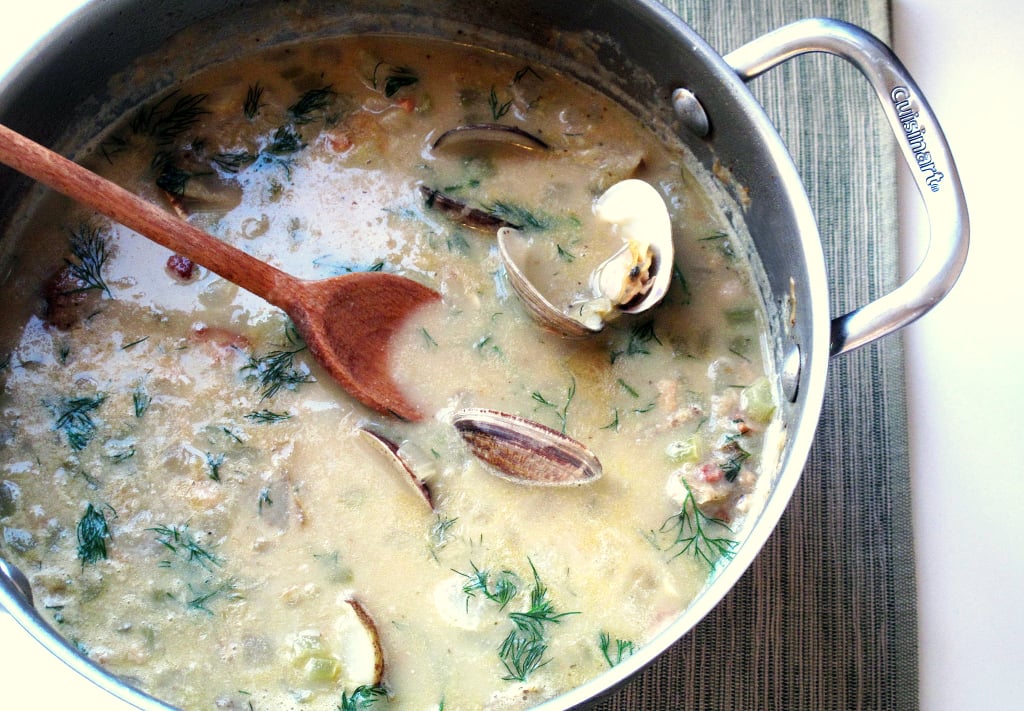 With miles of coastline, Massachusetts is known for its exceptionally fresh seafood. Naturally, New England clam chowder [Array] is a regional favorite.
Michigan: Cherry Pie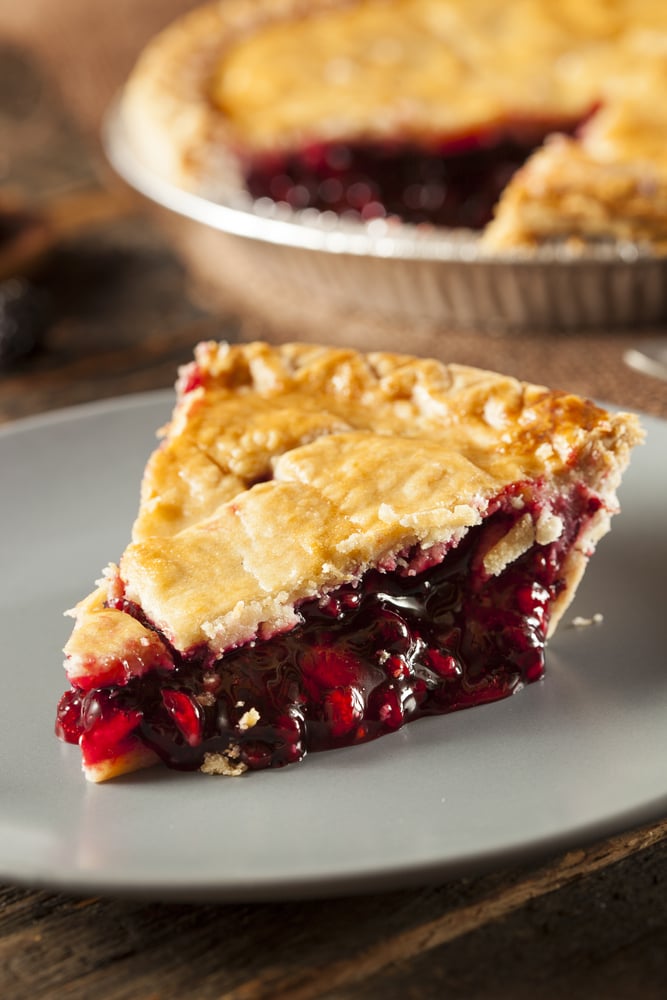 Michigan grows the majority of tart cherries in the US, and the locals love to bake cherry pies [20]. Make like Michiganders and stock up on tart cherries when you spot them, as their season is cruelly short. In a lurch? Frozen or canned are a good stand-in for fresh options, especially when cooking them down, as in a pie.
Minnesota: Juicy Lucy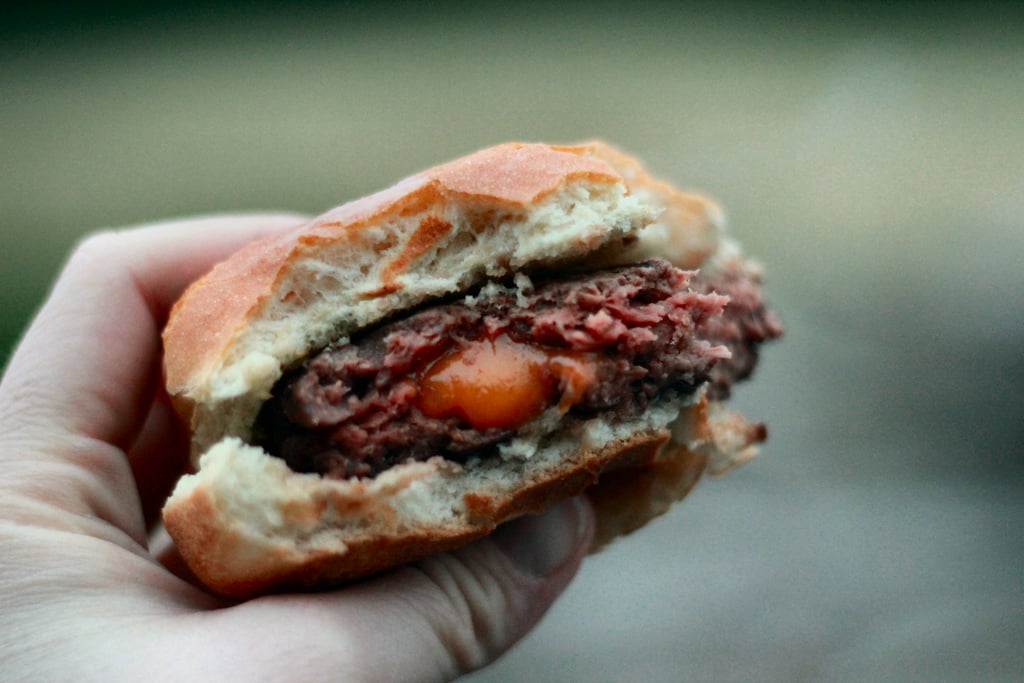 Two bars in Minneapolis claimed to have invented the Jucy Lucy or Juicy Lucy. The burger is stuffed with cheese then cooked, thus the melted, molten cheese that oozes out with each bite.
Mississippi: Mud Pie
Mississippi mud pie gets its name because the dessert resembles the muddy banks of the Mississippi River. The classic dessert contains a cookie crumb crust, chocolate pudding or cake filling, and whipped cream or ice cream topping.
Missouri: Kansas City Barbecue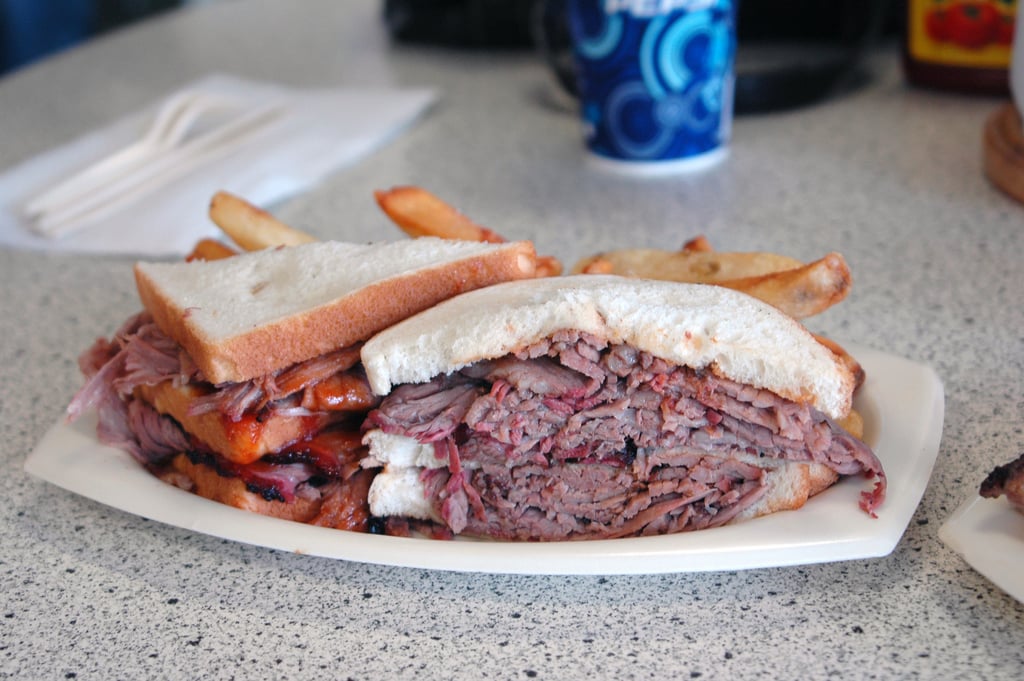 In the early 20th century, Henry Perry opened a smoked-meats shop and developed what is known today as Kansas City barbecue [21]. Ribs, chicken, brisket, and links are served with coleslaw, potato salad, and baked beans.
Montana: Bison Burgers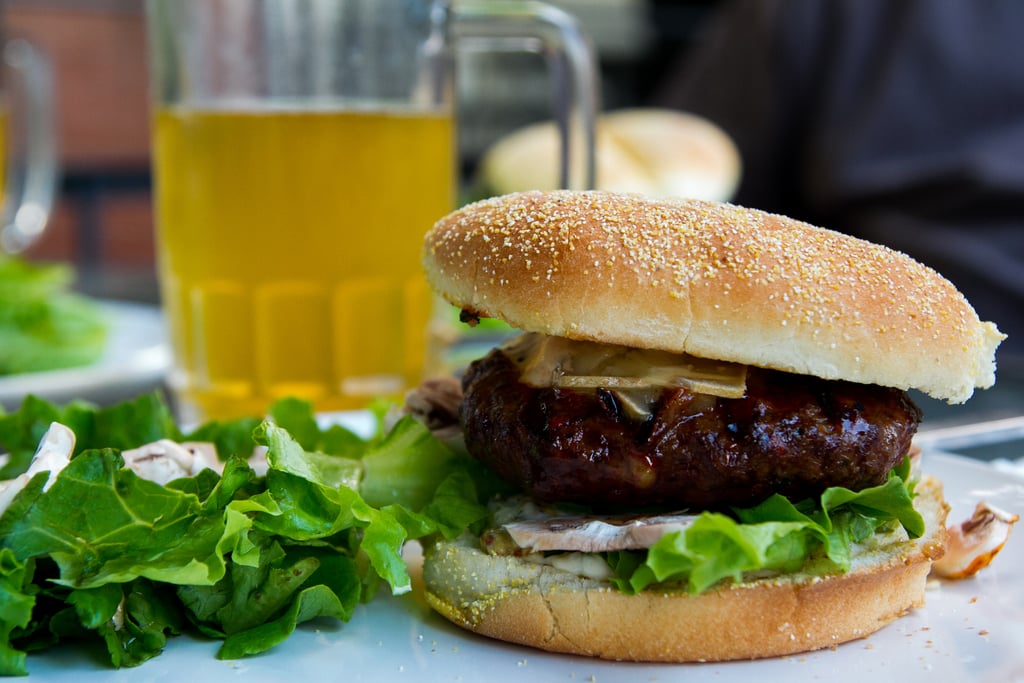 Bison roam Montana and have become increasingly popular because the meat is a sweeter, lower-fat alternative to beef.
Nebraska: Omaha Steaks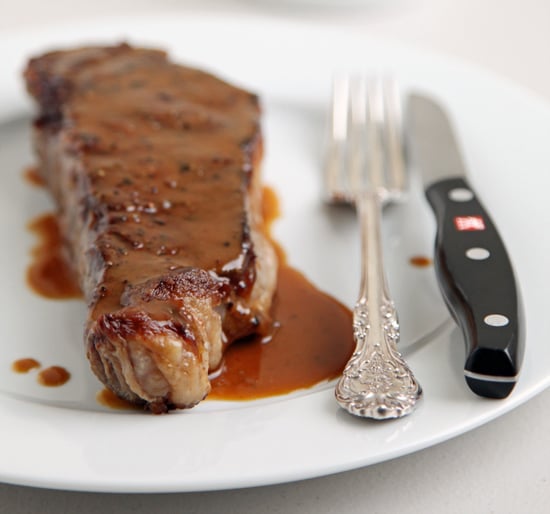 Omaha Steaks [22] has been around since 1917; however, the company popularized its steaks when it began serving them on the Union Pacific Railroad in the 1940s. Due to popular demand, the company started shipping its fine cuts of meat across the country.
Nevada: Hotel Buffets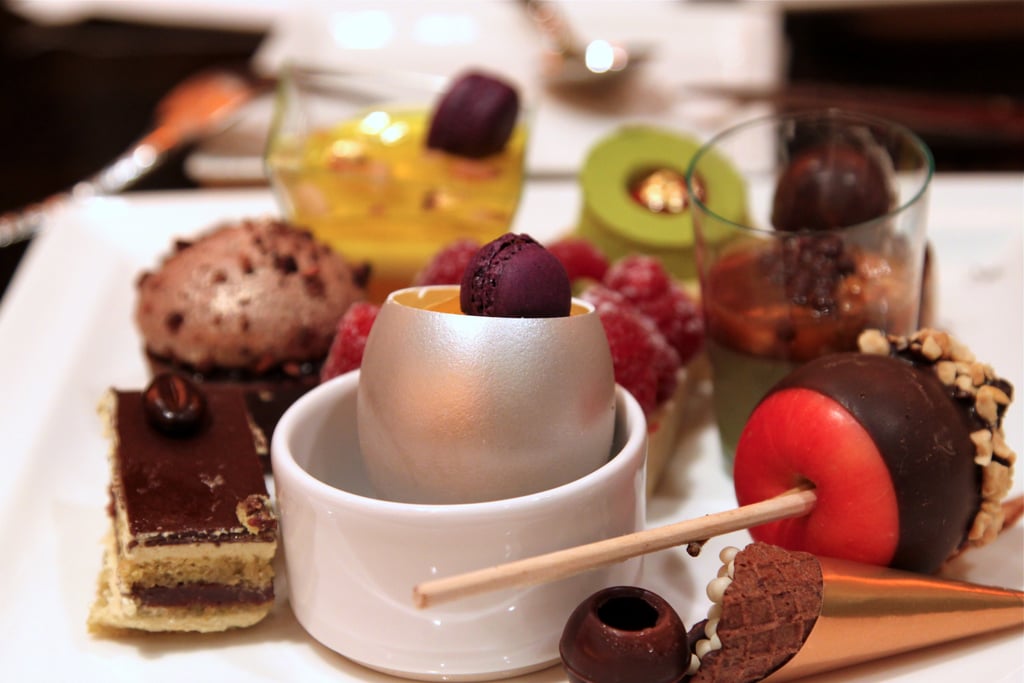 The state of Nevada is rich in Basque cuisine that can't be missed, but if you're heading to Las Vegas, restaurants run the gamut from high-end celebrity-chef-owned temples to gastronomy to greasy spoons. Perhaps the most iconic meal is the hotel buffet.
New Hampshire: Maple Syrup on Snow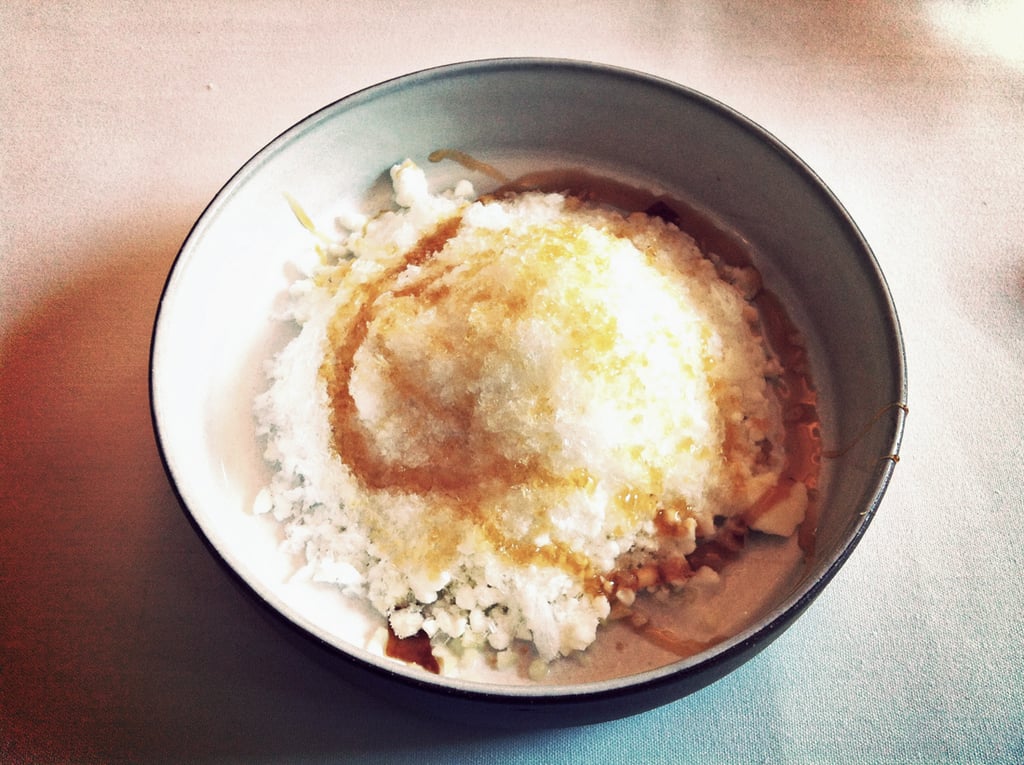 While perhaps not as well known for its maple syrup as its neighbor Vermont is, New Hampshire produces beautiful maple syrup. Our favorite way to enjoy? Drizzled on a bowl of freshly fallen snow, of course! Or we'd happily pour the syrup over the state-famous apples and bake them to perfection.
New Mexico: Hatch Green Chiles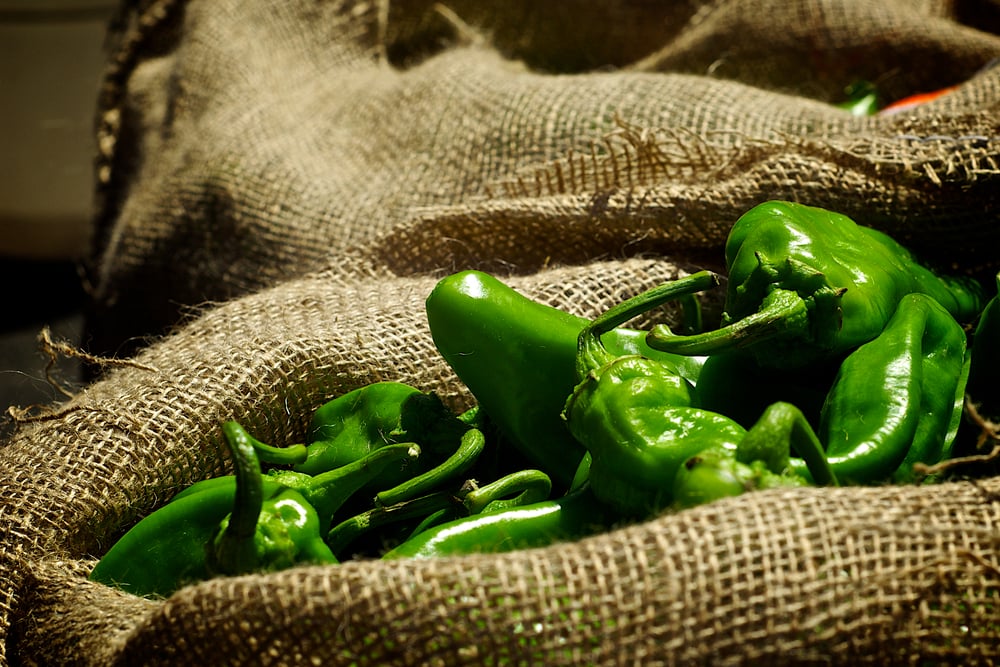 In New Mexico, the question isn't what green chiles go with, but rather what don't they go with? Sometimes mild, sometimes hot, and always robust in flavor, these large, locally grown peppers are picked unripe and fire-roasted, then served over everything from eggs to enchiladas.
New York: Buffalo Wings
New York City is a culinary melting pot from street food to high end, but Buffalo deserves credit for its iconic contribution: buffalo wings. Invented in Buffalo, NY, this traditional recipe involves deep-frying unbreaded chicken wings then slathering them in a spicy sauce, often made with Frank's Red Hot.
North Dakota: Kuchen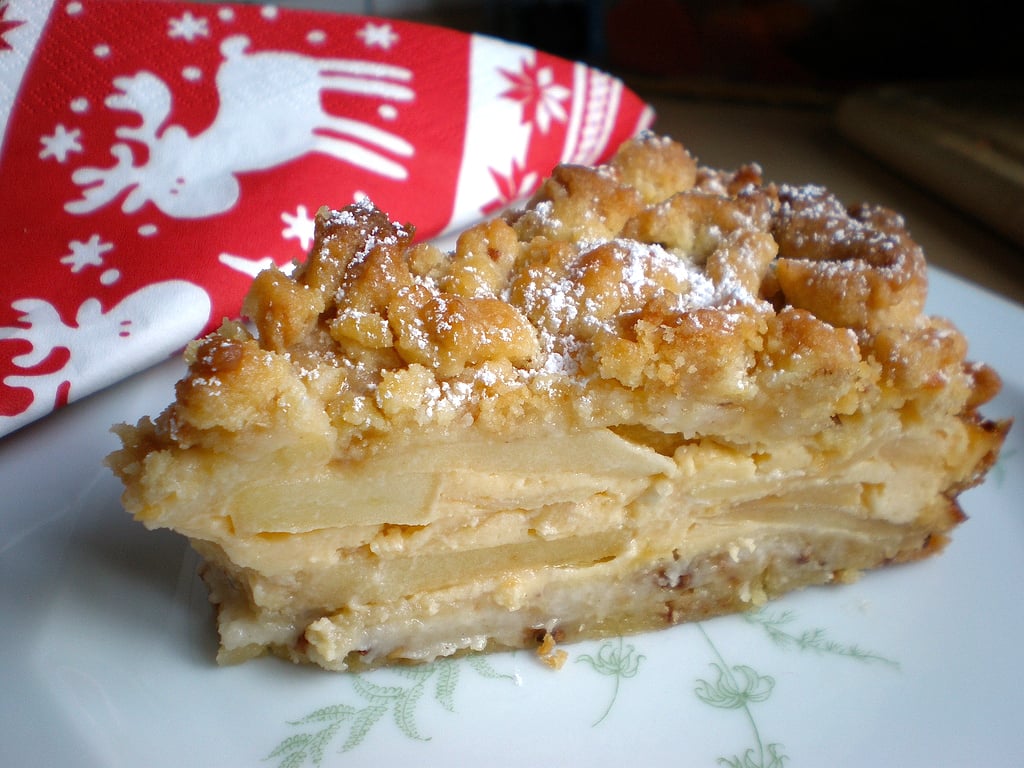 The foods known to North Dakotans draw their inspiration from both Norwegian and German-Russian culture. One local sweet favorite is the German kuchen, a coffee-cake-like dessert with a filling that combines custard and often a fruit such as apple.
New Jersey: Hoagies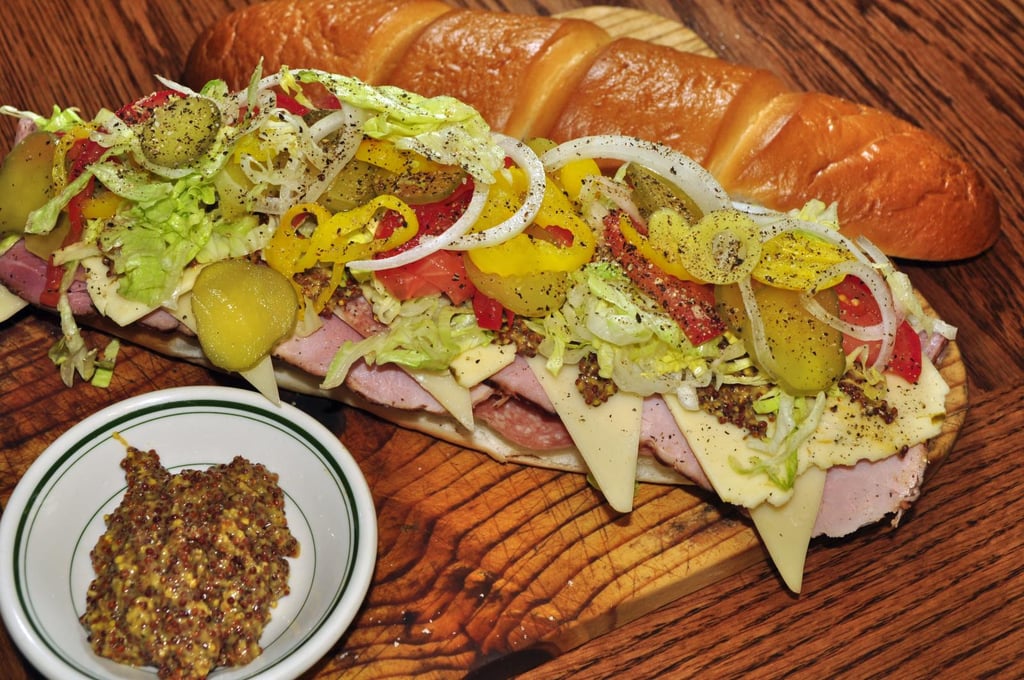 New York has heroes, but New Jersey knows its filled-to-the-brim hoagies. These Italian-style subs typically come with lettuce, tomato, onions, and oil and vinegar, plus whatever pile of cold cuts your stomach desires.
North Carolina: Pulled Pork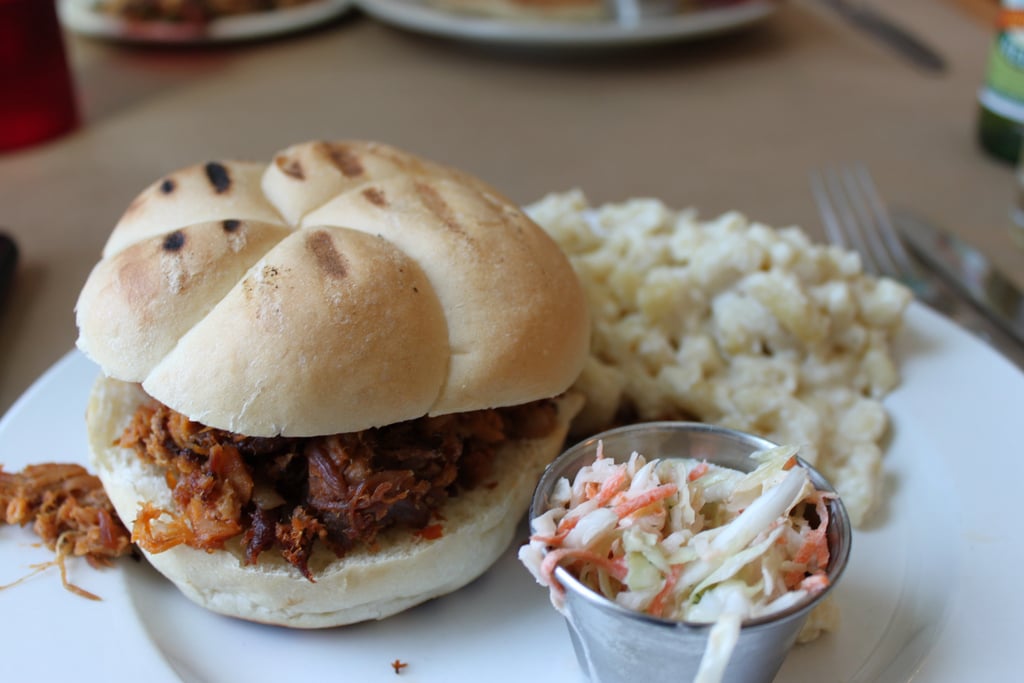 North Carolina barbecue [23] comes in two different styles: the whole hog — spicy, vinegar-laden East style — and Lexington style, which uses pork shoulder and a tomato-based sauce. Either way, pork is what's on the plate.
Ohio: Cincinnati Chili
Skyline Chili — technically a Cincinnati tradition — is a plate of spaghetti smothered in secret chili sauce and topped with a mound of cheese. Take a three-way chili to five-way with the addition of beans and onions.
Oklahoma: Chicken Fried Steak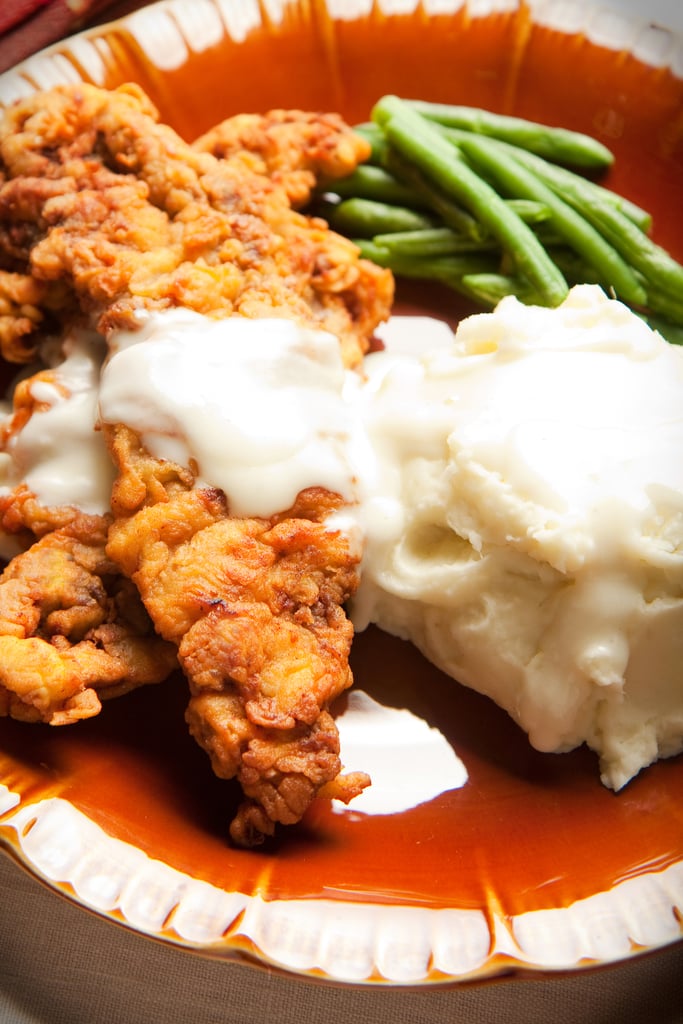 Tenderized cube steak coated in flour, fried, and served with thick gravy, chicken fried steak has made its mark as one of the official state meals of Oklahoma as of 1988, even though legend claims it originated in Texas during the 1800s.
Oregon: Marionberry Pie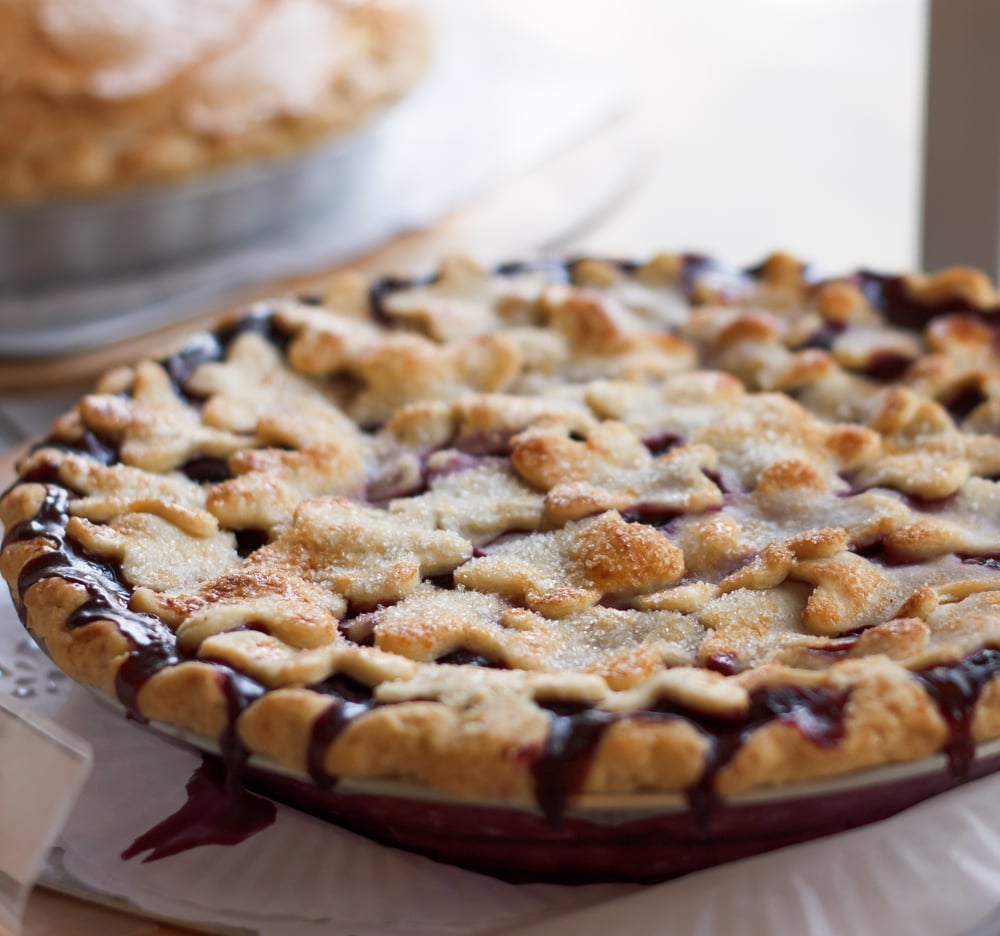 The marionberry is a hybrid berry developed by the USDA and Oregon State University in 1956. Half of Oregon's blackberries are this varietal, making it the most common blackberry type grown in the US. The best way to enjoy its deep purple color and rich flavor is by making a marionberry pie.
Pennsylvania: Philly Cheesesteaks
Philly cheesesteaks [24], the icon of Philadelphia, consist of a long, crunchy roll filled with thin slices of rib-eye beef and melted cheese, typically Cheez Whiz, but provolone and American are also common choices. They were invented by hot dog vendor Pat Olivieri in 1930. Rumor has it that Pat decided to cook up beef instead of hot dogs one day, and the aroma in the air sent the crowd flocking to try out the new sandwich.
Rhode Island: Clam Cakes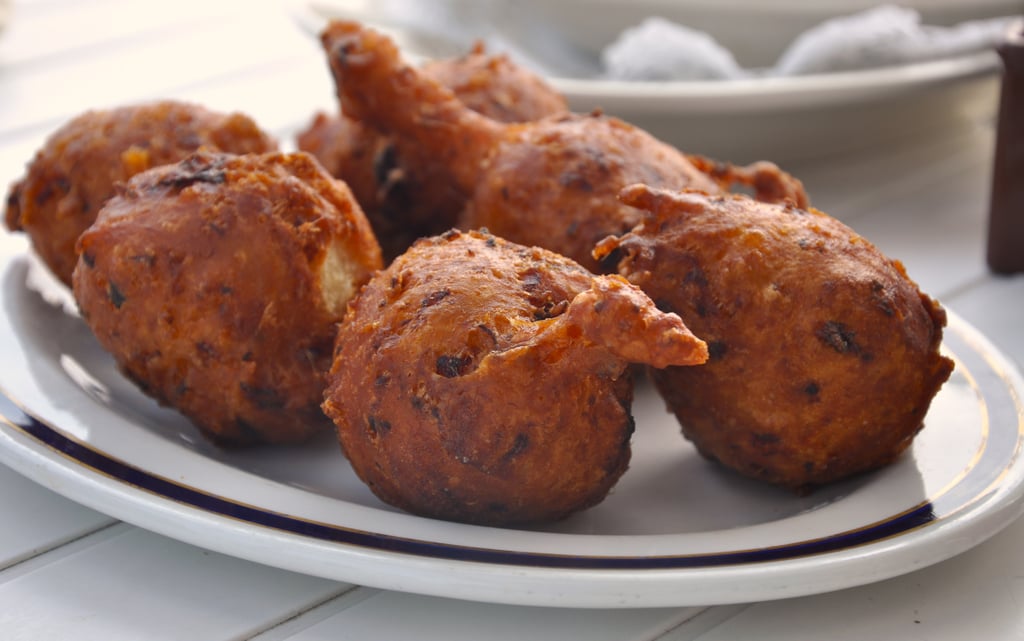 Clam cakes are a tradition in the tiniest state. The clams are ground up in dough, fried to perfection, purchased by the dozen, and served alongside a bowl of clear-broth clam chowder (another state favorite).
South Carolina: Hoppin' John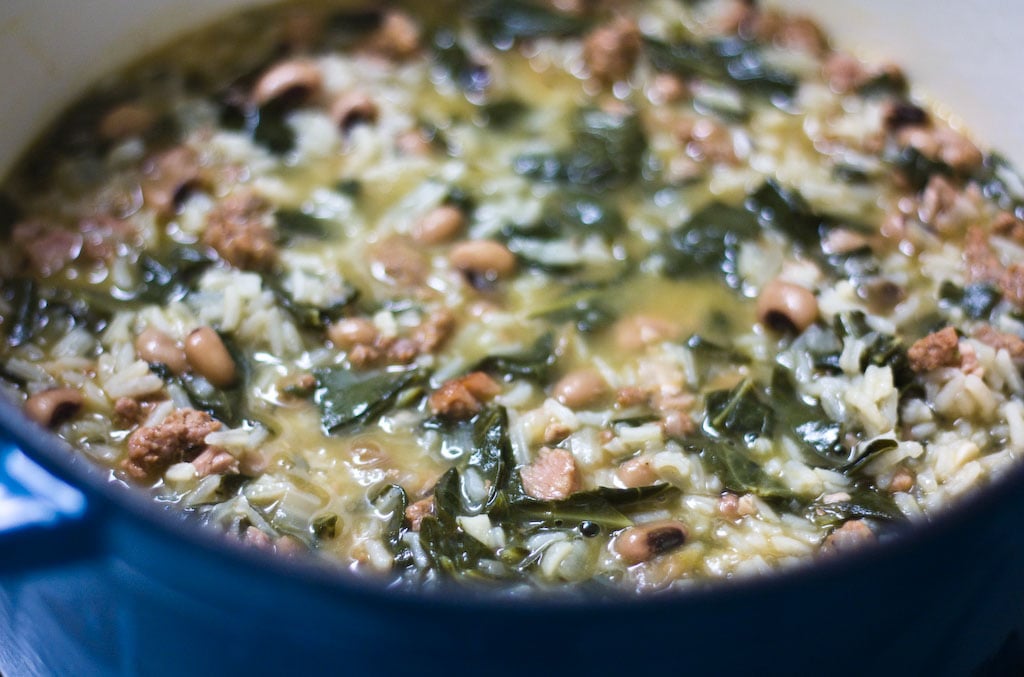 Hoppin' John [25] is the traditional black-eyed pea, rice, and pork dish served in South Carolina. Legend has it that it received its name in the 1800s, when a one-legged black man named John peddled for it on the streets of Charleston. Other stories claim that the black-eyed pea became highly revered after it fed the masses during the Civil War.
South Dakota: Chislic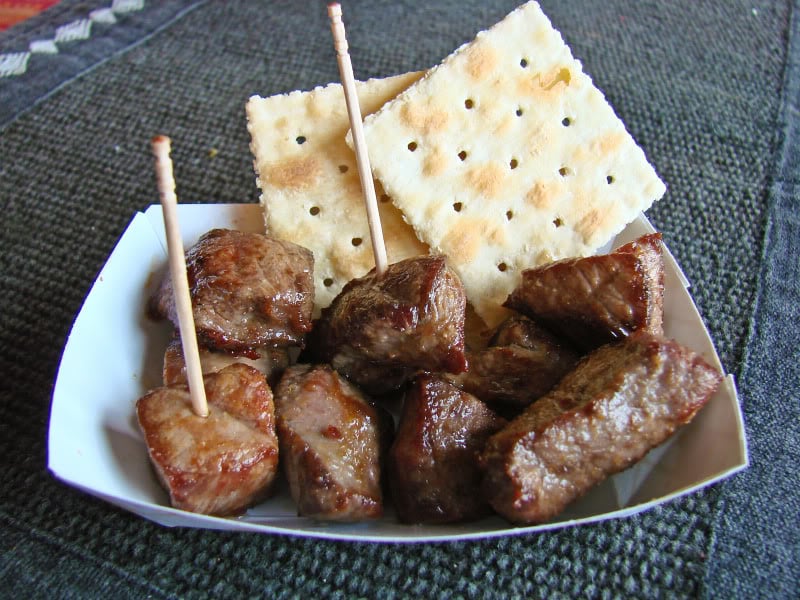 Chislic, or "meat on a stick," is a common bar snack found in North Dakota. Typically it consists of deep-fried cubes of lamb, venison, or beef, served with toothpicks, garlic salt, and saltine crackers. Outside the Dakotas, you probably won't see this item on bar menus.
Tennessee: Mountain Stack Cake
The Tennessee Mountain Stack Cake [26] is a thin, multilayered cake with a dried apple filling between the layers. This is no easy cake to bake, as it requires rolling out the dough into cookie-thin disks. When the entire cake is assembled, it must be chilled for 24 hours so the apple juices soak into the cake.
The labor was originally divided between the women in the community, as the stack cake was the traditional wedding [27] cake in the Appalachian mountain range. Each neighbor brought a layer of cake, and it was said that the more layers of cake the bride had, the more popular she was.
Texas: Beef Chili (Chili Con Carne)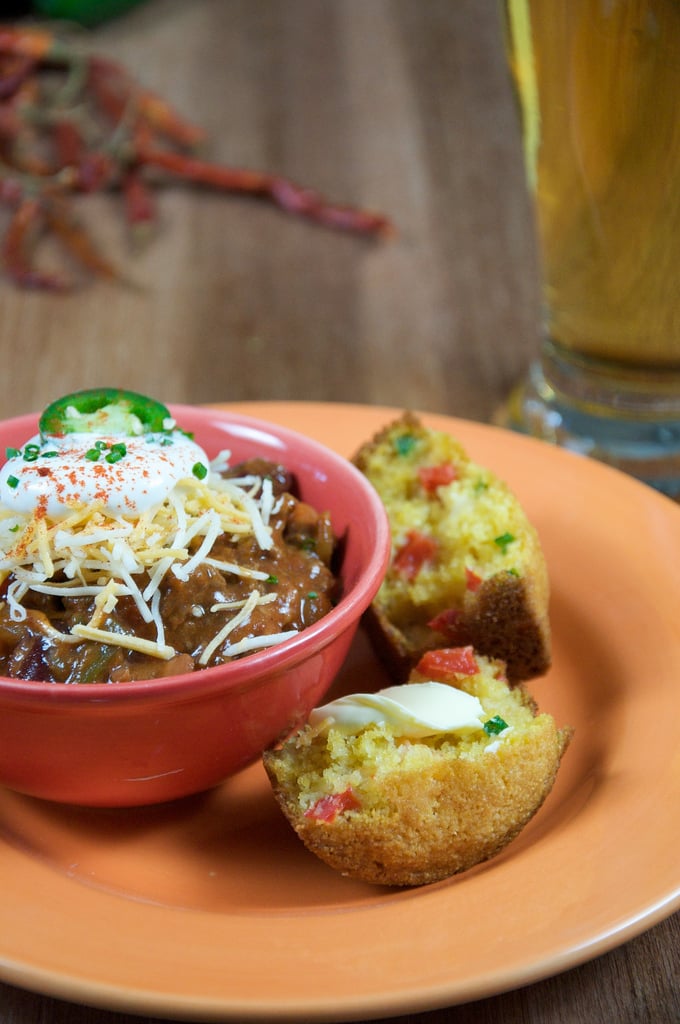 Chili con carne, or simply beef chili, is a thick, spicy, tomato-based stew that has been around Texas since the early 1500s, when the recipe was first documented by conquistador Captain Bernal Díaz Del Castillo. He grimly documented that the Cholula Indians were so confident about winning the battle that they were already boiling the cauldrons of chili. People in Texas are serious about the ingredients in their chili, especially as to whether or not it should contain beans.
Utah: Jell-O Pretzel Salad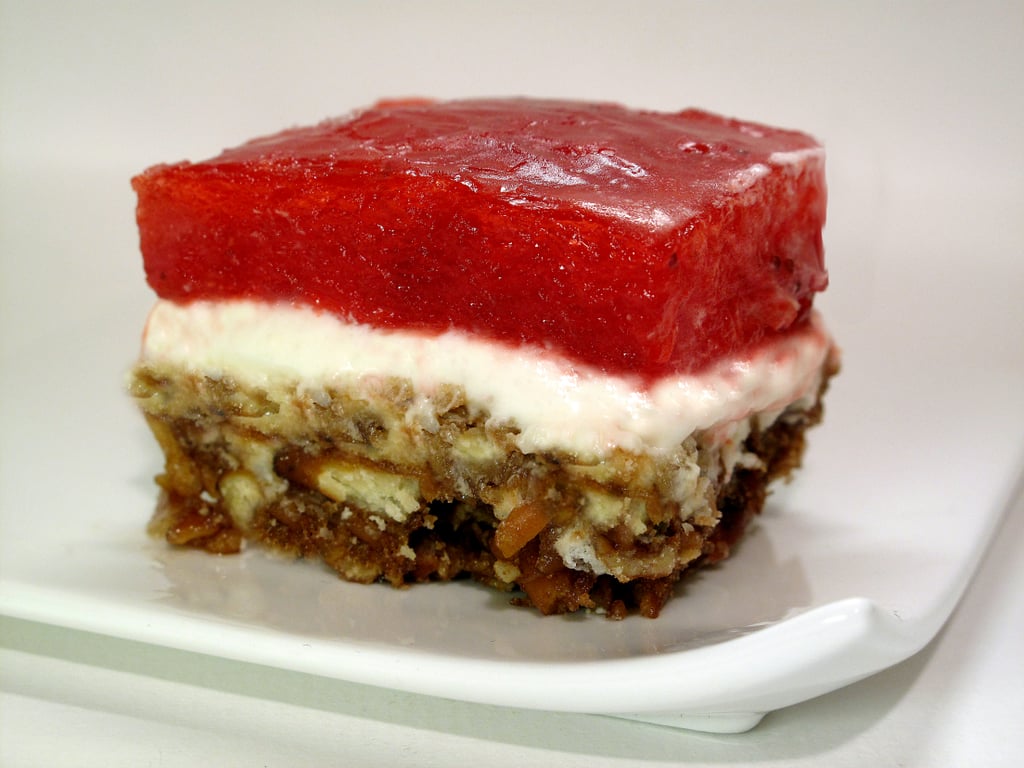 Jell-O is the state snack of Utah, and while there are a myriad of ways to eat the jiggly snack, this Jell-O pretzel salad is an intriguing salty and sweet dessert. It features layers of crushed pretzels, cream cheese, and a berry Jell-O.
Vermont: Ben & Jerry's Ice Cream
Ben & Jerry's ice cream originated in 1978 when two friends got together, opened an ice cream shop in Vermont, and started blending unusual toppings in their favorite flavors of ice cream. While most people enjoy pints at home, you can still go to one of many Ben & Jerry's ice cream shops around the world.
Virginia: Ham Biscuits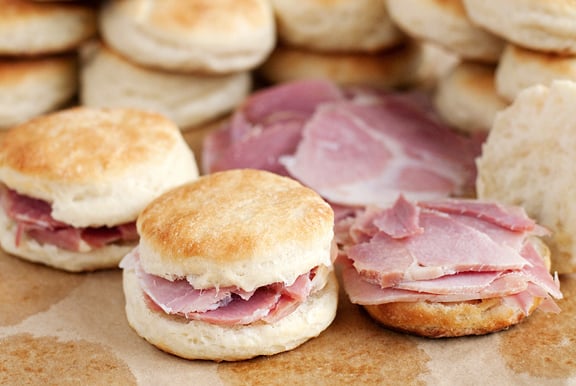 In the early 1600s, pigs were brought to Virginia colonies to raise for food and hunting. Virginia's climate was perfect for raising pigs, and native Americans taught settlers how to smoke and cure the meat. As a result, Virginia became famous for its cured Virginia ham, which pairs brilliantly with a Southern biscuit.
Washington: Cedar Plank Grilled Salmon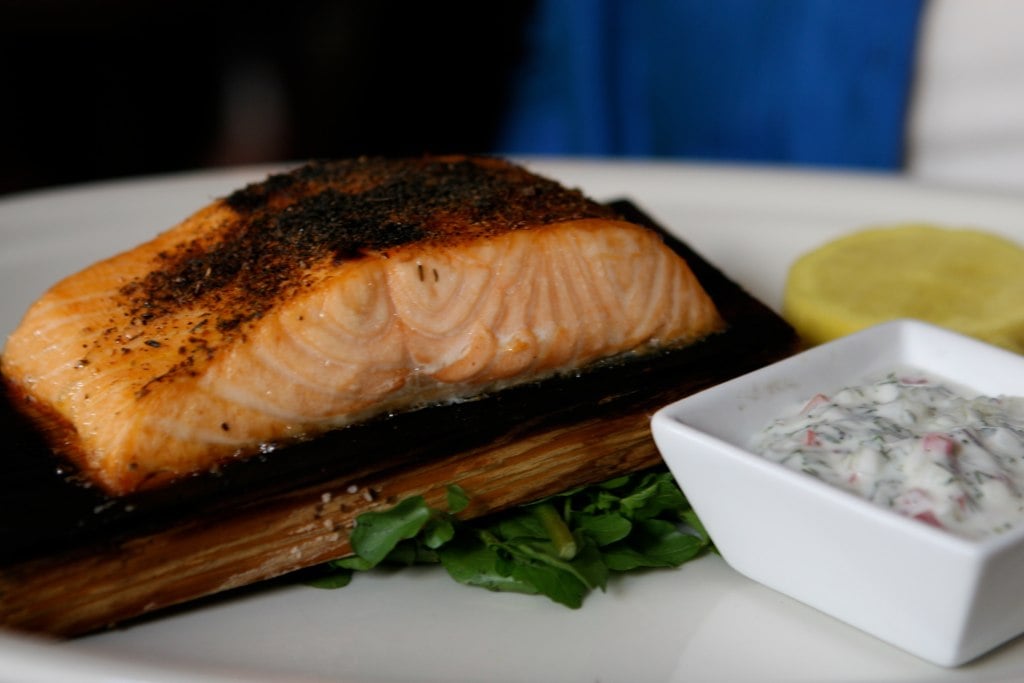 Wild salmon is prevalent on the Pacific coast, and grilling it atop a cedar plank brings a smokey richness to the fish's flavor. The method of cooking fish on fragrant wooden planks originated from Native Americans living in the Pacific Northwest.
West Virginia: Pepperoni Roll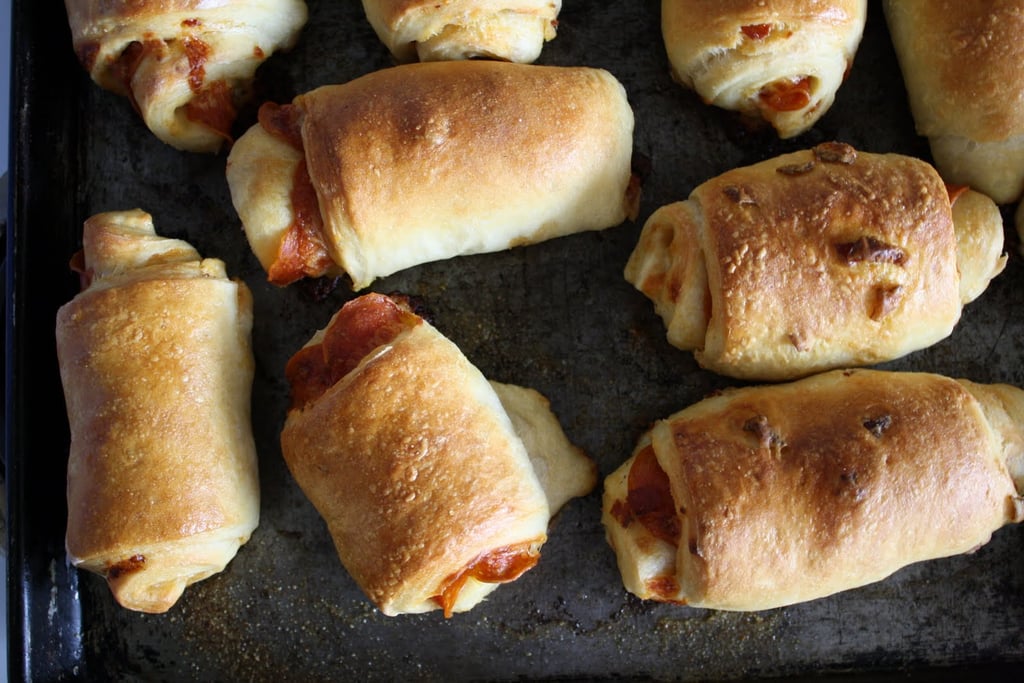 The origins of the pepperoni roll can be traced back to 1927, when Giuseppe Argiro baked pepperoni inside soft yeast rolls at the Country Club Bakery in Fairmont, WV. The rolls became a popular lunch item among coal miners (many were Italian immigrants) because the rolls didn't need to be refrigerated.
Wisconsin: Beer Brats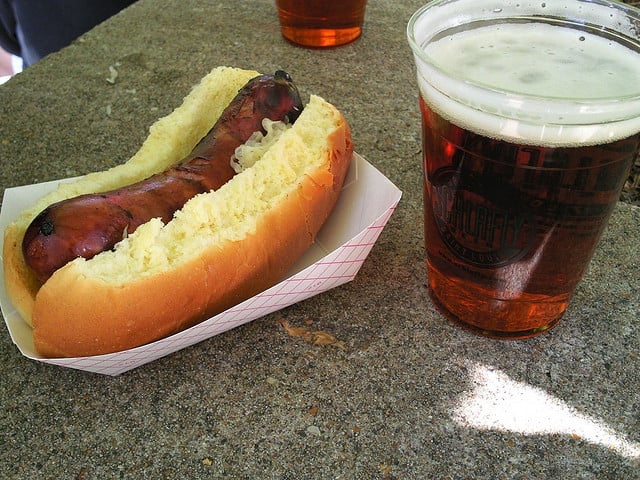 Germans immigrants brought the first brats to Wisconsin. Beer brats, or bratwurst poached in beer and grilled with onions and butter, are commonly served in bars and during Summer cookouts.
Wyoming: Rocky Mountain Oysters
Rocky Mountain oysters are not for the faint at heart, but these delicious little bites are deep-fried calf bull testicles often served with a gravy or a dipping sauce. These might be an acquired taste for most, but cowboys have been enjoying them for a long time!