Artichoke Crab Dip
Modified from Tyler Florence [5]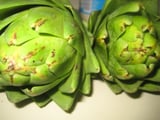 Ingredients
3 large globe artichokes
1 cup mayonnaise
1 cup sour cream
1 teaspoon lemon juice
1 heaping tablespoon fresh flat-leaf parsley, finely minced
Kosher salt and freshly ground black pepper
1 cup fresh lump crab meat, picked over
3/4 cup grated parmesan
Croutons, for serving, recipe below
Directions
Fill a large pot with water and bring to a boil.
Meanwhile, trim artichokes down to their hearts, working quickly so they don't go too brown (you can rub with lemon juice as you go if you like). Remove the outer leaves and scoop out the middle. Peel the rough outside off the stem. Place the hearts in the water and cook, simmering until tender, about an hour.
Drain the artichoke hearts and set aside until they are cool enough to handle.
Preheat oven to 400 degrees F.
Combine mayonnaise, sour cream, lemon, parsley, salt and pepper in the bowl of a food processor. Add the cooked artichoke hearts and blitz to combine. Blend until you have a thick artichoke puree.
Turn mixture out into a large bowl and stir in lump crabmeat and 1/2 cup parmesan cheese. Stir well and season with more salt and pepper, if necessary.
Pour into an oven proof dish (a large ramekin works well). Top with remaining parmesan cheese. Bake dip for 10 to 12 minutes until heated through and top is nice and bubbly. Serve with croutons.
Serves 8-10.
Croutons:
1 French baguette
Extra-virgin olive oil
Kosher salt and freshly ground black pepper
Preheat oven to 350 degrees F. Cut baguette on a slight bias and lay out on a sheet tray. Drizzle with olive oil and season lightly with salt and pepper. Bake in the oven for 5 to 7 minutes until golden brown and crispy. Serve with Artichoke Crab Dip.
Information
Category

Dips, Appetizers