 What do Irish Stew and Ramen noodles have in common? Apparently Conan O'Brien can't make either. Unfortunately no one told the folks at Good Housekeeping magazine that Conan O'Brien doesn't cook. You see somehow they think he does. In fact they believe it so much that they actually published his recipe for his "favorite" St. Patrick's Day dish. Problem is since Conan doesn't cook, he doesn't have a recipe. If you want to watch what he had to say about it on his show, plus check out the recipe for his "fave" stew, just
.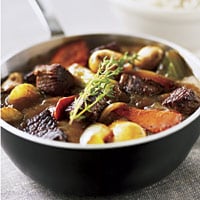 Ingredients
2 c. diagonally sliced carrots
2 c. diagonally sliced parsnips
2 c. sliced onions
1 1/2 lbs. small white potatoes, each cut into quarters
Salt and freshly ground black pepper
1 1/2 tsp. dried thyme
2 lbs. boneless lamb stew meat
1 1/2 c. beef broth
4 c. plus 3 Tbsp. cold water
3 Tbsp. all-purpose flour
Directions
Preheat oven to 350° F.
In heavy 6-quart Dutch oven, spread half of vegetables; season with 1/4 teaspoon salt, 1/8 teaspoon pepper, and half of thyme. Top with meat, then remaining vegetables. Season with 1/4 teaspoon salt, 1/8 teaspoon pepper, and remaining thyme.
Add broth and 4 cups water.
Cover and cook in oven 2 1/2 hours or until meat and vegetables are tender.
Transfer meat and vegetables to bowl; cover and keep warm.
In cup, blend flour with remaining water; stir into hot liquid in Dutch oven.
Heat to boiling on top of range; boil 1 minute.
Skim off fat. Return meat and vegetables to Dutch oven.
Serves 6.
Information
Category

Soups/Stews, Stew

Cuisine

English/Scottish/Irish