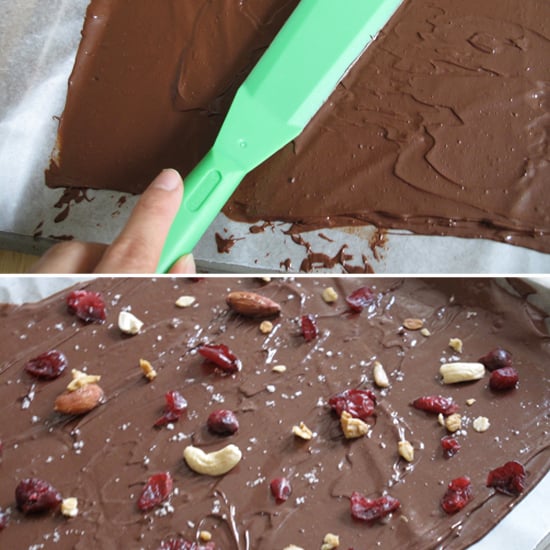 Making your own candy for Halloween? Next time you dip anything in chocolate, be sure to make the most of the melted mess that's left behind. Rather than dumping it down the drain, do what I do: assemble homemade chocolate bark!
Use a rubber spatula to transfer the tempered white, milk, or dark chocolate onto a baking pan covered with wax paper. With an offset spatula, spread the candy as evenly as possible into a thin sheet.
Sprinkle it with anything you like: almonds, sunflower seeds, dried fruit, crushed candy, or all of the above. (My personal favorite is fleur de sel — to offset the sweetness.)
Stick the entire pan in the freezer; within the half hour, the chocolate will have hardened into a luxuriously thin sheet of chocolate.
At this point, you can break it into pieces, stick it in a ziplock bag, and refrigerate it to keep on hand anytime the craving strikes.
Serve it to houseguests for dessert, give it away as an edible gift, or hoard it all for yourself; the choice is yours. What do you do with melted chocolate?