Uses For Cast Iron Dutch Ovens
Do-It-All Cookware: In Praise of the Cast-Iron Dutch Oven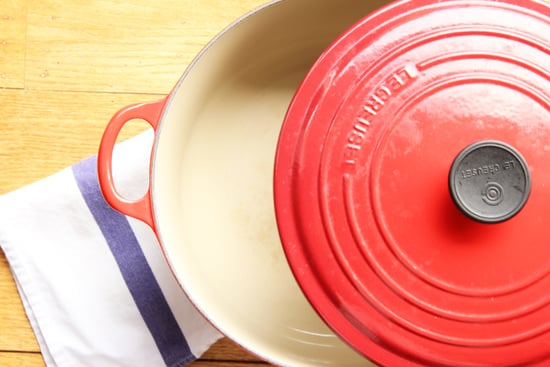 Photo: Sara Yoo
Late-night infomercials seem to have the solution to every kitchen conundrum, but I learned quickly that buying into every zealous sales pitch meant cabinets full of single-use gadgets that receive only occasional use. So when I dove into my shelves of dusty equipment for a Spring clean-out, I found that several could go in the donation bin thanks to one multitasking pot: my enameled cast-iron Dutch oven.
Photo: Camilla Salem
While forms of this essential vessel exist in many cultures, the original "Dutch" oven finds its roots in 17th century Netherlands, where it was a way to recreate the effects of an oven when only an open fire was available. My first Dutch oven arrived in the form of a Christmas gift from my mom who remarked, "You need one of these." She's never been so right. That 5 1/2-quart round Le Creuset became a stovetop fixture as I discovered I could use it for everything, from braised duck ragu to frijoles de la olla, to kimchi jjigae. The flat bottom heats evenly, even on my scary, early 90s-era electric coil range, and everything I simmer, braise, and stew takes on flavor depth unmatched by my other cookware. Thanks to the enameled surface, it's a wonder to deglaze, easy to clean, and incredibly durable. Now the proud owner of three of these do-it-all pots (the 5 1/2-quart round, a 7 1/2-quart round, and a 9 1/2-quart oval), I'm armed for dinner for two — or 20.
For a few of the many uses for your cast-iron enameled Dutch oven, just read on.
Braised short ribs. Brown the ribs and cook the vegetables on the stove, then assemble all ingredients in the pot and into the oven it goes!
Bread. Baking bread in a Dutch oven results in loaves that are crusty on the outside and chewy-soft in the middle. Try a foolproof no-knead recipe.
Chicken en cocotte. At low temperatures, the heavy lid contains the moisture of the chicken and vegetables and steams the bird to juicy perfection.
Soups and stews. Recipes that require only one pot are perfect for your Dutch oven, as are recipes that slowly build layers of flavor like hearty soups and stews. The tall sides of the pot are just high enough to reduce immersion blending spray.
Bolognese sauce. The cast-iron lid traps more steam than its light-lidded counterparts, resulting in rich-flavored, slow-simmered sauces.
Deep-fried anything. The Dutch oven's high sides trap oil spatter, and if you're a clumsy cook (like I am), the substantial weight helps avoid nasty hot oil accidents.
What do you cook in your Dutch oven?