Using Fruit to Trap Fruit Flies
Dealing With Annoying Little Fruit Flies? Do This!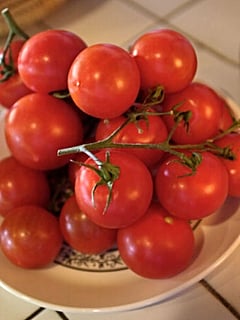 Fruit flies are a pesky kitchen menace that always seem to appear when the produce is plentiful, like right now at the end of Summer. Peaches, tomatoes, melons, squash, and grapes attract these teeny brown bugs that multiply in mere minutes. Don't be scared if you're facing an infestation, it's easy to outsmart fruit flies. Read more to learn how you get rid of fruit flies.
Place a large piece of cut fruit (I used a wedge of grapefruit) in a disposable container.
Cover with plastic wrap and tape at the bottom to

seal

. Once the fruit flies are trapped inside you don't want them to get out.
With a toothpick, poke 8-10 holes in the plastic wrap.
Place in a open spot in the kitchen. Make sure that any other fruit you have on hand is in the fridge. You want the fruit flies to go for the cut fruit in the trap.
In a couple of hours, most or all of the flies will be trapped in the plastic-enclosed container. Discard immediately. Have you ever dealt with fruit flies?