Here's a light and delicious vegan dinner option courtesy of reader girlA: angel hair pasta with mushrooms and homemade ricotta.
This is so light and flavorful that The Husband is already looking forward to the leftovers. The original recipe is from the latest issue of Sunset Magazine, but I made lots of changes. So really, I guess that means I was inspired by the recipe . . .
Keep reading to look at her recipe.
Angel Hair Pasta With Mushrooms and Ricotta
Sunset Magazine, adapted
Ingredients
6 oz. angel hair pasta
8 oz. cremini mushrooms, sliced
1 leek, white and light green parts only, chopped
1 garlic clove, minced
Salt, to taste
1/2 cup vegan ricotta (recipe below)
1/4 cup toasted croutons, crushed (I made my own—see below)
1/3 cup flat-leaf parsley leaves
4 Tbs. olive oil, divided
Ricotta:
14 oz. extra firm tofu, drained and pressed
1/3 cup nutritional yeast
1/2 cup to 1 cup fresh basil leaves
1 tsp. salt
1 tsp. garlic powder
2 Tbs. lemon juice
Croutons:
2-3 slices French bread, toasted, then chopped and crushed
Directions
To make ricotta: Combine all ingredients in a food processor and blend well. You'll only need about 1/3 to 1/2 cup, so either refrigerate the rest for a few days for another meal, or freeze it.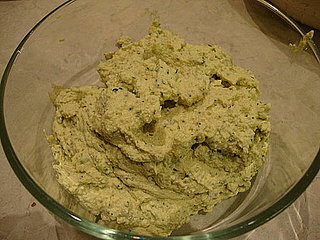 Cook pasta according to package instructions; reserve 1 cup of the pasta water, then drain. Heat 2 Tbs. of the olive oil and add the mushrooms; cook until browned. Add the leeks and garlic and cook about 1-2 minutes. Season with salt. Toss the pasta with the mushroom mixture, reserved pasta sauce and remaining 2 Tbs. of olive oil.
Top with little dollops of the ricotta and some parsley. Enjoy!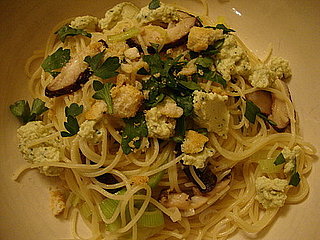 Information
Category

Pasta, Main Dishes
Have you made any delicious vegan creations lately? If so, be sure to post them to The Dairy Free Diva Recipe Exchange. It's easy to upload your photos and a description of the experience, and it could be featured on YumSugar! If you're new to the YumSugar Community, here's a detailed guide to posting to groups.