Vegan Pumpkin Pie Recipe
Come Party With Me: Vegetarian Thanksgiving — Dessert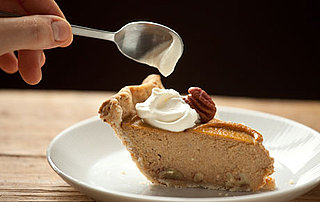 While most classic Thanksgiving desserts don't feature meat, the majority do use dairy products. If you're catering to a mix of vegetarians and vegans, it's important to serve a dessert that everyone can enjoy. This pumpkin pie recipe is 100 percent vegan. The crust consists of flour and pecans blended with vegetable shortening.
The pumpkin filling gets its creamy, smooth, and thick texture from silken tofu. To make this pie gluten-free, substitute gluten-free baking mix for the flour and use gluten-free vanilla instead of vanilla. Get the recipe here.
Ingredients
Crust
2 1/2 cups all-purpose flour
1/2 cup pecan pieces
1 teaspoon salt
1 tablespoon sugar
1 cup non-hydrogenated vegetable shortening
Filling
1 (16-ounce) package extra-firm lite silken tofu, drained
1 (15-ounce) can pumpkin purée
1/2 cup sugar
1/4 cup plus 2 tablespoons maple syrup, divided
1 teaspoon vanilla extract
1/2 teaspoon salt
1 teaspoon ground cinnamon
1/2 teaspoon ground ginger
1/4 teaspoon ground cloves
1 cup pecan halves, divided
Non-dairy topping (optional)
Directions
For the crust, pulse flour, pecans, salt and sugar in a food processor until pecans are finely ground. Add shortening and pulse until almost combined, then add 3 tablespoons ice water and pulse until just blended. Gather dough into two balls then press each into a disc. Wrap each in plastic wrap and chill for several hours until firm.
When ready to make the pie, set one disc out at room temperature for 15 minutes to soften slightly. On a floured surface, roll out dough into a (10- to 11-inch) circle and carefully transfer to a (9-inch) pie plate. Press crust back together where needed and crimp edges as desired; chill until ready to use. (Reserve remaining pie dough for another use.)
Preheat oven to 400°F. For the filling, blend tofu in a food processor until creamy and smooth. Add pumpkin, sugar, 1/4 cup of the syrup, vanilla, salt, cinnamon, ginger and cloves and purée until smooth; set aside.
Reserve 8 pecan halves as a garnish then toss remaining pecans with remaining 2 tablespoons syrup and arrange evenly on the bottom of the pie shell. Pour pumpkin filling into pie shell and bake until just set and a toothpick inserted in the center comes out clean, about 1 hour.
Set pie aside to let cool then top with non-dairy topping, if you like, and decorate with reserved pecans.
Serves 12.
Nutrition: Per serving (1 piece/155g-wt.): 430 calories (240 from fat), 27g total fat, 5g saturated fat, 0mg cholesterol, 330mg sodium, 42g total carbohydrate (3g dietary fiber, 18g sugar), 7g protein
Information
Category

Desserts, Pies/Tarts

Cuisine

North American