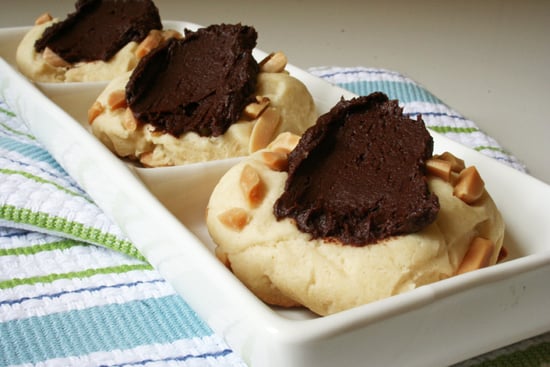 Warmer months mean lazy afternoon tea parties, and these thumbprint cookies are a dainty treat to add to the table. For added crunch and flavor, try rolling the crisp, crumbly shortbread in toasted, slivered almonds. Although vegan, the smooth, dark chocolate "buttercream" imparts rich, tart notes to the otherwise delicate cookie. Take a look at the fast and easy recipe.
Vegan Almond Thumbprints With Chocolate "Buttercream"
By Anna Monette Roberts, YumSugar
Ingredients
For cookies:
1/3 cup vegan shortening, such as Spectrum Naturals
3/4 cup white sugar
1/3 cup almond milk, or more if needed
1 1/2 teaspoons vanilla extract
1/2 teaspoon almond extract
2 cups all-purpose flour
1 teaspoon baking powder
1/4 teaspoon salt
1 1/4 cups blanched almonds, toasted and slivered
For "buttercream":
1/4 cup vegan shortening
1/4 cup vegan margarine, such as Earth Balance
1 teaspoon vanilla extract
1 tablespoon almond milk, or more if needed
1 cup powdered sugar
1/2 cup cocoa powder
Directions
Preheat oven to 350ºF. Line two baking sheets with parchment paper.
To make cookies: In a large bowl, use an electric mixer to combine shortening, sugar, milk, vanilla extract, and almond extract. Sift in flour, baking powder, and salt. Mix until a thick, stiff dough forms. If dough is dry and crumbles easily, then add more milk, one tablespoon at a time.
Place toasted and chopped almonds in a bowl. Scoop a tablespoon of dough, roll into a ball, and then roll in almonds until covered throughout. Place almond-rolled dough balls on the baking sheet, one inch apart. Use your thumb to create a "thumbprint" indention in the middle of each cookie.
Bake 16-18 minutes or until cookies are firm and golden brown. Cool cookies for five minutes, and then move them to wire racks to cool to room temperature before icing.
To make icing: In a large bowl, use an electric mixer to combine shortening and margarine. Mix in vanilla and almond milk. Sift powdered sugar and cocoa powder into bowl, and mix until combined and fluffy. If buttercream is too dry, then add more milk, one tablespoon at a time. Conversely, if buttercream is too wet, then sift in more powdered sugar and mix until the right texture is achieved.
To assemble: Scoop a tablespoon of buttercream with the tip of a butter knife or mini icing spatula. In one swoop, place dollop of icing inside the cookie's indention. (To avoid glopping, spread buttercream onto thumbprint without lifting the knife off the cookie.)
Makes 24 cookies.
Information
Category

Desserts, Cookies