Vegetable Stock Recipe
Back to Basics: Homemade Vegetable Stock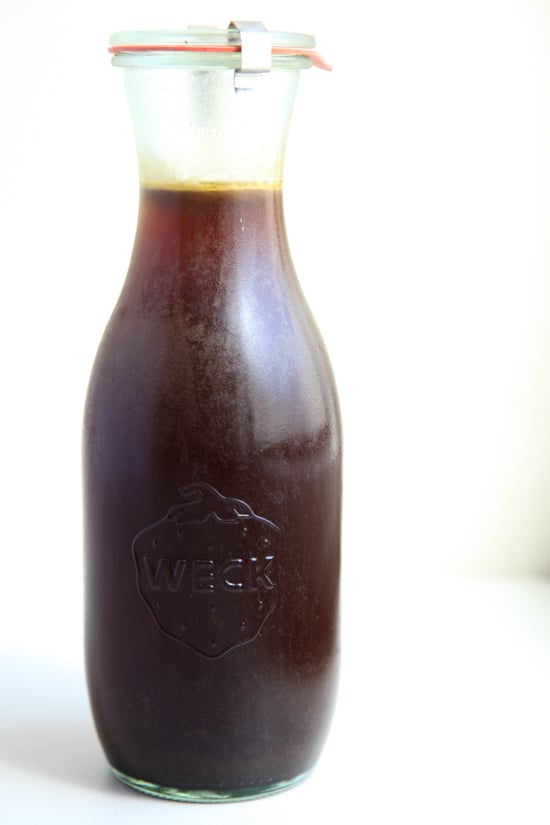 While I make a number of things from scratch, I'm not above taking an occasional shortcut or two in the kitchen. My pantry is nearly always stocked with tetra packs of chicken stock, cans of beans, and boxes of gnocchi. I draw the line, however, when it comes to vegetable stock. Despite tasting a variety of brands, I've never found a can, box, or tub that tastes much better than insipid dirty dishwater.
Rather than lamenting this shortcoming or constantly swapping chicken or beef stock for its vegetarian-friendly cousin, I choose to take matters into my own hands. Luckily, a batch of robust and dark-brown vegetable stock is little more than an hour away. So whip out your sharpest chef knife and a cutting board; a bit of chopping, slicing, and simmering is all that separates you from a stellar kitchen staple.
What pantry staples do you think are worth making from scratch?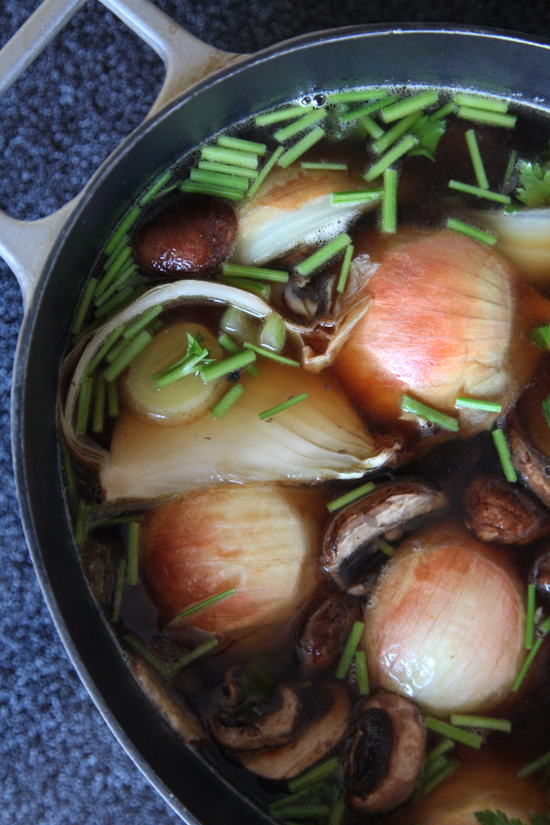 Notes
Dried mushrooms can be substituted for fresh in a pinch. Simply reconstitute 3/8 of an ounce of dried mushrooms in 1 cup boiling water for 10 minutes, and add the mushrooms and their liquid when adding the water to the stock. If I'm not going to use all of the stock within 2-3 days, I like to freeze the extra in well-sealed resealable storage bags in 1-cup increments, as it's easier to thaw the necessary amount that way.
Ingredients
1/4 cup neutral oil, such as grapeseed or canola
4 carrots, peeled and sliced into coins
2 onions, quartered (don't bother to peel)
2 medium potatoes, sliced
3 celery stalks, sliced
4 to 6 cloves garlic (don't bother to peel)
20 cremini or white mushrooms, sliced
40 parsley stems or 20 sprigs with leaves, roughly chopped
4 tablespoons soy sauce
1/2 teaspoon whole black peppercorns
2 bay leaves
Directions
Drizzle the oil into a stockpot, dutch oven, or large straight sided skillet (6+ quart capacity), and warm over medium-high heat. When hot, add the carrots, onions, potatoes, celery, garlic, and mushrooms. Cook stirring occasionally until the vegetables start to soften, and begin to brown, about 10-15 minutes.
Add 8 cups water, the parsley, soy sauce, peppercorns, and bay leaves. Bring to a boil, then reduce the heat and simmer for at least 30 minutes, up to an hour; a longer cook time will ensure a deeper flavor, but if you're in a rush 30 minutes is adequate.
Use a spider skimmer to remove the larger vegetable pieces, then strain the stock through a fine mesh strainer into a large bowl, pressing on any remaining solids to ensure you get all of the liquid.
Refrigerate until use.
Makes about 2 quarts.
Information
Category

Soups/Stews, Stock/Broth

Cuisine

North American