Vegetable Sushi Roll
A Vegetable Sushi Roll With 2 Secret Ingredients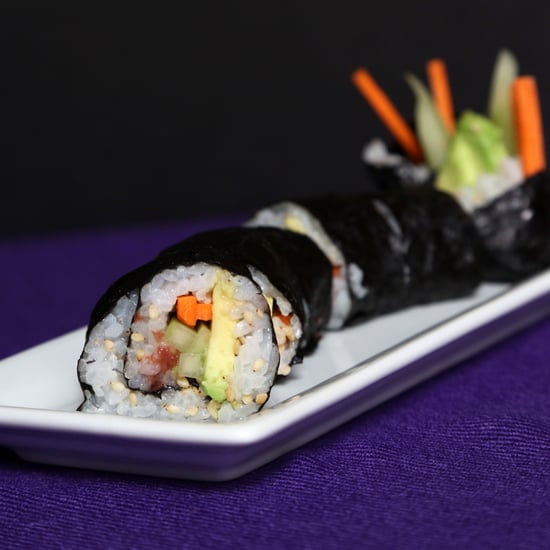 Who says raw vegetables can't pack plenty of flavor? This vegetable sushi roll, made with creamy avocado and crunchy cucumber and carrots, has two secret ingredients: gomasio and umeboshi paste. Gomasio literally means "sesame salt" in Japanese. This condiment is sprinkled onto Asian cuisine like salt and is made from crushed, toasted sesame seeds and salt. Unlike salt, which only adds one dimension of flavor to a dish, gomasio gives food a nutty, roasted quality. Just be sure to keep your bottle in the fridge, because sesame seeds go rancid quickly, and nothing is worse than ruining a dish with rancid seasoning!
Also contributing to the saltiness of the sushi is umeboshi paste, or puréed, pickled Japanese plums. What does this bright purple paste taste like, you might be wondering? Umeboshi paste is at once extremely salty and full of savory umami flavor (the Western equivalent, in terms of texture and flavor, would be concentrated bouillon paste). Even just 1/4 of a teaspoon of umeboshi paste smeared on a sushi roll will give the sushi sufficient seasoning, so much so that you probably won't be tempted to dip the roll in a dish of soy sauce.
To see how this simple vegetable sushi roll is constructed, keep reading for the recipe.
Vegetable Sushi Roll
From Anna Monette Roberts, POPSUGAR Food
Notes
For visual step-by-step instructions on how to make a sushi roll, watch this video before making this sushi recipe.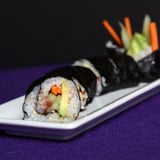 Ingredients
1/2 cup sushi rice
3/4 cup water
1 1/2 teaspoons rice vinegar
1 1/2 teaspoons sugar
1/4 teaspoon salt
4 sheets nori
2 teaspoons gomasio or toasted sesame seeds
1 teaspoon umeboshi paste
1/2 ripe avocado, sliced thin
1/2 carrot, julienned
1/2 cucumber, seeded and julienned
Directions
Rinse the sushi rice until the water runs clear. In a small saucepan, combine the rice and water. Let sit for 30 minutes before cooking. Over high heat, bring the rice to a boil, stir once, cover with the lid, and reduce the heat to a simmer. Cook for 20 minutes. Remove from the heat and let steam for 10 minutes.
Meanwhile in a small sauté pan, heat the rice vinegar, sugar, and salt, until the sugar dissolves. Pour the vinegar mixture over cooked sushi rice, and transfer the rice into a large bowl. Use a large, flat rice spoon to break up any large pieces of rice and then fold the rice to help it cool to a little above room temperature.
On a bamboo wrapper, place nori, shiny side down, with its perforated lines (which help you cut the sushi later on) running up and down. Spoon 1/2 cup cooked sushi rice onto the nori. Dip fingertips in warm water, then use them to spread rice evenly around nori, leaving a 1/2-inch border uncovered. Sprinkle 1/2 teaspoon gomasio (or toasted sesame seeds) on the rice. Along the edge of the nori closest to you, spread 1/4 teaspoon umeboshi paste, two pieces of avocado, two to three pieces carrot, and two to three pieces cucumber.
Starting with the edge of the nori closest to you, firmly tuck vegetables into the nori and roll it away from your body, using the bamboo wrapper to guide you. At the opposite edge, dip a finger in warm water and glide it across the rice-free section of the nori (to help seal the roll). Once the sushi is completely wrapped inside the bamboo wrapper, give it a tight squeeze to make sure the sushi is sealed. Remove the bamboo wrapper and place the sushi, seam side down, on a cutting board. Using a slightly damp, sharp knife, cut the sushi into eight pieces. Repeat the sushi-making process until all the sushi rolls are made. Serve immediately.
Makes four (eight-piece) sushi rolls.
Information
Category

Rice, Main Dishes

Cuisine

Japanese