Vegetarian Chicken Subsitute
Do Beyond Meat's Chicken-Free Strips Really Taste Like You-Know-What?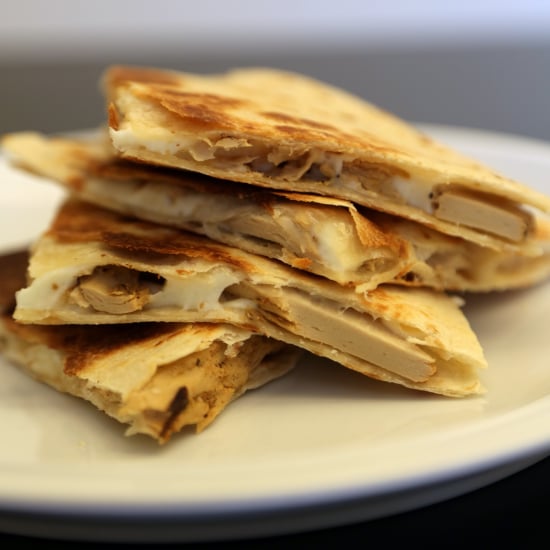 There are some pretty scary mock meats out there, but here's a new one that claims it doesn't compromise flavor or texture: Beyond Meat Chicken-Free Strips ($5). These strips, which are sold at Whole Foods nationwide, are being touted as gluten-free and protein-rich (about 18 grams for 3 ounces). They've even garnered praise from the likes of Mark Bittman, who claims he was "fooled badly" in a blind tasting. But let's get to the real heart of the matter: is this product, made primarily of non-GMO soy and pea protein, just a science experiment of sorts, or is it really worth eating?
Lightly Seasoned Chicken-Free Strips
The company describes the lightly seasoned strips as "oven-baked with the savory spices of roasted chicken." We found them mild, not too salty, and dense. They taste somewhat authentic with their shredded pull and chew; and it's almost convincing that they're the real thing. The keyword is almost, as they do have a slightly rubbery texture and soy aftertaste. We're apt to eat these in a casserole, tacos, or slathered in some sauce to disguise any misgivings.
Grilled Chicken-Free Strips
The grilled strips are "grilled over a mesquite fire with a sweet hint of molasses." Tasters felt strongly about this flavor, so prepare to experience something super smoky. If you dig that, then you'll enjoy this flavor, but it's a deterrent for others. Some also felt weirded out by the gray color.
Southwest Style Chicken-Free Strips
"Grilled with a traditional chipotle-lime blend," the Southwest strips were the favorite flavor of the three for the nice blend of flavors and spices. Even though some found it a little gummy, most tasters felt like this was a great meat alternative that they'd happily swap out in their favorite chicken recipes, salads, and late-night snacks (like the quesadilla we devoured above).
Overall Thoughts
Look, this isn't chicken — but surprisingly, it's pretty darn close. Vegetarians and vegans in our office endorse this product and felt like it is one of the better meatless options on the market, although be warned that there is a laundry list of ingredients, including a host of some foreign, seemingly scary ones. Those who want to cut some meat from their diet also said they'd pick up a package from the shelves. We appreciate this product and would use it for our veggie friends and family, but it's unlikely anything could replace real chicken, no matter how good it is.