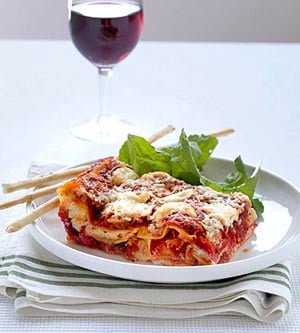 A traditional lasagna made from scratch can be a very time-consuming meal to prepare. However, take some help from the grocery store and employ a store-bought sauce with no-boil noodles, and you can make a rendition that's worthy of any busy weeknight.
The recipe calls for goat cheese or mozzarella cheese, but why choose between the two when you can have both? Serve with a green salad and you'll have a speedy classic Italian supper on the table in no time. For the recipe, keep reading


Roasted Red Pepper Lasagna
Ingredients
Nonstick cooking spray
2 cups red pasta sauce, such as portobello mushroom or garden vegetable
6 no-boil lasagna noodles
1/2 of a 15-oz.container ricotta cheese
6 oz. goat cheese or shredded mozzarella cheese (1-1/2 cups)
1 Tbsp. Chianti or other red wine (optional)
1/4 cup finely shredded Parmesan cheese
1 cup roasted red sweet peppers, drained well and cut into strips
Directions
Preheat oven to 350 degrees F. Lightly coat a 2-quart square baking dish with cooking spray.
Spoon 1/3 cup of the sauce in the dish. Top with 2 lasagna noodles.
In a small bowl stir together the ricotta cheese, 1 cup of the goat cheese, and, if desired, the Chianti. Spoon half the mixture over the noodles in the dish. Sprinkle with 2 tablespoons Parmesan. Top with half the red pepper strips. Spoon half the remaining sauce on the pepper layer.
Top with 2 more noodles, the remaining ricotta mixture, and remaining peppers. Add 2 more noodles and the remaining sauce. Dot top with remaining goat cheese and sprinkle with remaining Parmesan.
Cover with foil. Bake for 50 minutes. Let stand, covered, on a wire rack for 20 minutes before serving.
Serves 4-6.
Information
Category

Pasta, Main Dishes

Cuisine

Italian