Vegetarian Thanksgiving Tips
Make This Thanksgiving Vegetarian-Friendly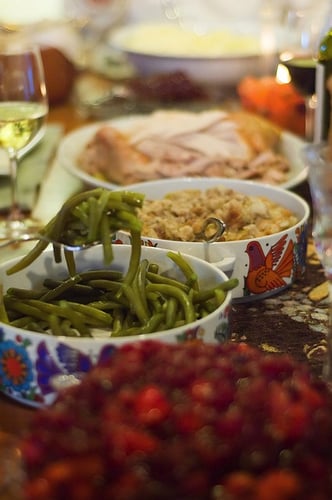 Although the turkey is a huge part of the holiday, this Thanksgiving, why not honor the vegetables (and the vegetarians), too? You could plan an entirely meat-free meal or simply make your Thanksgiving more vegetarian-friendly. With a few small steps, you can easily alter your menu to suit both carnivores and vegetarians. Here's how:


Start by making all of the appetizers vegetarian. Serve things like baked goat cheese and crackers, olives, and nuts. Your meat-eating family and friends won't turn these down.
When it comes to the sides, offer a variety of meat-less dishes. If you're cooking the stuffing inside the bird, set aside some for the vegetarians and bake in a gratin dish.
Use vegetarian stock. One of the biggest mistakes people make when cooking for vegetarians is forgetting about the stock.
Get the rest of my suggestions — and share yours! — after the break.


Serve a vegetarian entrée like pumpkin ravioli or butternut squash bread pudding. It's the main course for your vegetarian guests but will also be enjoyed by the rest of the party. If you don't have time to make something, place an order from a restaurant or supermarket.
Make vegetarian gravy.
If you want to serve roast Tofurky, be sure the vegetarians in your life like it. Also, consider purchasing Tofurky deli slices instead of the entire roast.
If the vegetarian you've invited has offered to bring a dish, go ahead and take them up on the offer!
Do you have any great tips on how to turn your classic feast into a vegetarian one?
Source: Flickr User carbonnyc