Venezuelan Grilled Chicken Recipe
Grill This! Pollo Asado Negro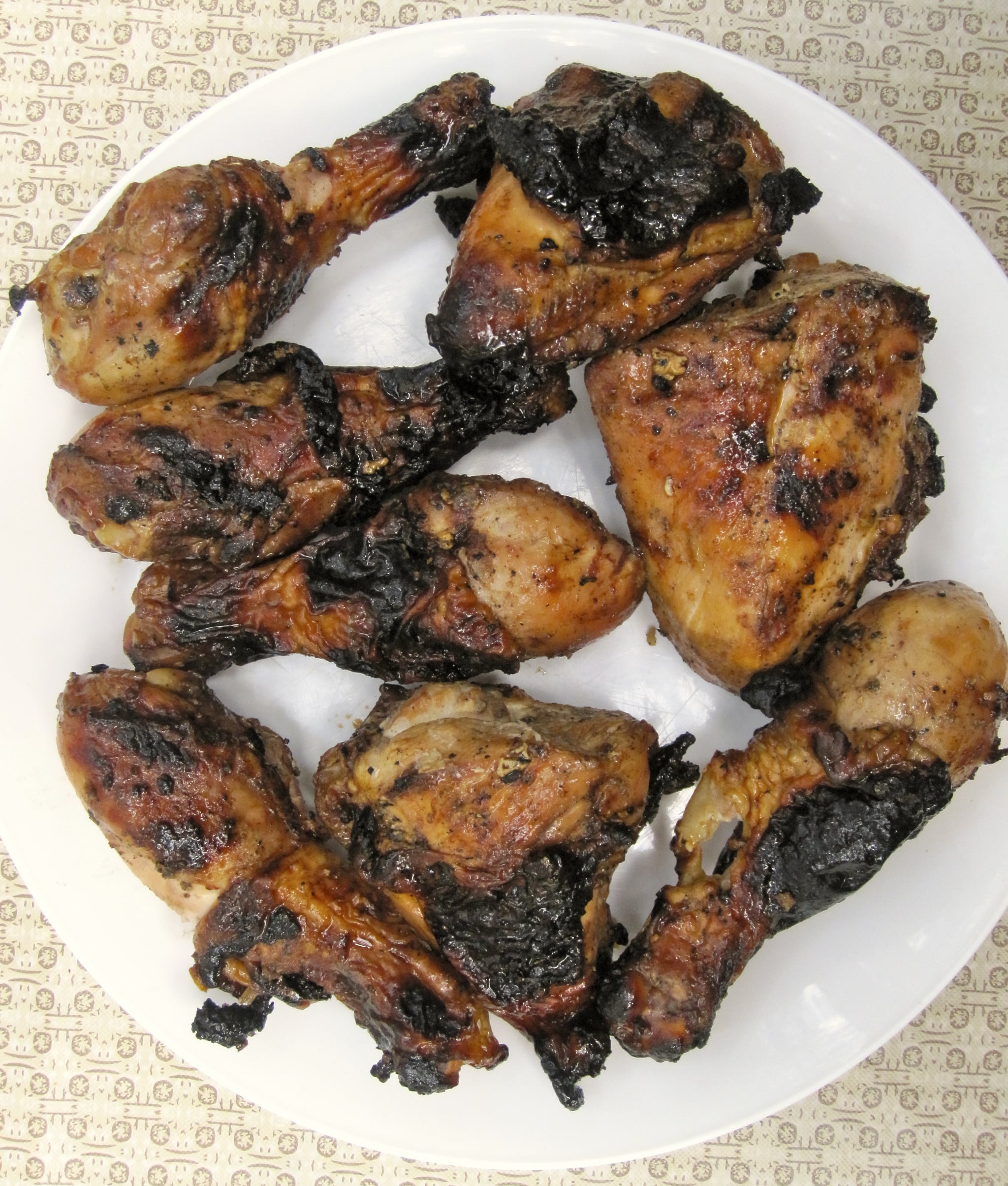 If you're into Latin cuisine, you've got to get your hands on a copy of Lourdes Castro's Latin Grilling. A native of Miami with Cuban parents, Castro is a culinary professor and a cookbook author who specializes in accessible food from south of the border. The book is divided into sections by country, and this recipe for pollo asado negro, grilled blackened chicken, is found in the Venezuela section. The marinade ingredients are simple — it's a mixture of garlic, brown sugar, and Worcestershire sauce — but the resulting chicken is very delicious. It's caramelized, salty, and succulent. It's a great alternative to barbecued chicken and is awesome for entertaining. I recommend serving it with sangria. Keep reading for Castro's recipe.
Brown Sugar-Crusted Grilled Chicken
From Latin Grilling by Lourdes Castro
Ingredients
7 cloves garlic, peeled and crushed
Salt
1 1/4 cups packed brown sugar
3 tablespoons Worcestershire sauce
2 tablespoons vegetable oil
Black pepper
2 pounds skin-on, bone-in chicken breasts
2 pounds skin-on, bone-in chicken legs and thighs
3 limes, cut into wedges
Directions
Create a garlic paste: Place the crushed garlic cloves on your cutting board and sprinkle 1 teaspoon salt over them. Wait a minute or so; you will notice moisture leaching from the garlic. Holding your knife blade almost parallel to the cutting board, scrape the blade over the chopped garlic. Repeat this motion a few times, until the garlic has formed a semisoft paste. (Alternatively, use a mortar and pestle.)
Marinate the chicken: In a large mixing bowl, combine the garlic paste, brown sugar, Worcestershire sauce, vegetable oil and 1/2 teaspoon of black pepper. Stir until the sugar has dissolved. Add the chicken, and toss until well coated with marinade. Cover and refrigerate for at least 30 minutes, or overnight.
Heat the grill to high (550 degrees), close the lid, and wait 15 minutes before continuing. Oil the grill grates with a vegetable oil-soaked paper towel held with a long pair of tongs.
If using chicken breasts, start them first: Place skin side down on the grill. With the heat on high and the lid open, grill for 10 minutes to crisp the skin and render some fat.
Lower the heat to medium-high (450 degrees), turn the chicken over, add the chicken thighs and legs, and close the lid. Cook for an additional 10 minutes before flipping the chicken a final time. Cook for 10 more minutes, or until the chicken is done. Remove to a platter, garnish with lime wedges, and serve.
Serves 8.
Information
Category

Poultry, Main Dishes

Cuisine

South American