Vermont Farmstead Cheeses
Artisanal Pick: Vermont Farmstead Cheese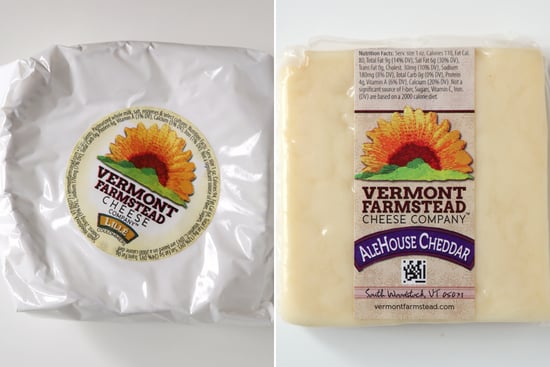 Vermont is home to some of the best cheese in America, and The Vermont Farmstead Cheese Company is a worthy one to know for several reasons. First, the cheese company formed as a community effort between a group of locals and investors to save a dairy farm on the brink of closure in South Woodstock, VT. The group then created a farmstead, meaning the company makes its cheeses from the milk produced on its dairy farm, rather than buying the milk from a separate farmer. It also happens to produce a number of award-winning cheeses. We first discovered Vermont Farmstead at the Fancy Food Show, and since then have fallen for two of its cheeses, the Lillé and AleHouse Cheddar.
Click to keep reading about the cheeses.
Lillé
For $20 a pound, Lillé has been described as the Vermont rendition of Coulommiers, a French soft cheese and predecessor to brie. While a bit runny, the core is slightly thicker than brie and the entire wheel is enveloped in a neutral-tasting white rind. Lillé has a silky, viscous texture and grassy, mushroom-like flavor. A crusty baguette is the only vessel you need to transfer the gooey bits to your anxiously awaiting palate.
AleHouse Cheddar
Ale in unlikely foods is a growing trend, and this AleHouse Cheddar ($8 for 7 ounces) is a perfect marriage. The hoppy, sharp cheddar will be shocking to unexpecting palates, but those who love a good, hearty IPA will appreciate the robust, boozy cheese. We enjoyed pairing the cheddar with a fruity but bitter California pale ale, Firestone Pale 31. The company recommends melting the cheese for fondue, which we can imagine is a wise decision on a cold night.