Victorian Sponge Cake
Small Victorian Sponge Cakes For Teatime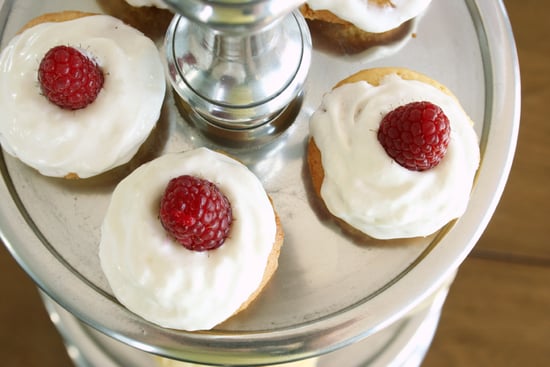 Small cakes are an essential part of British afternoon teatime, and a Victorian sponge is a historic, easy-to-make cake to serve guests. The cake is named after Queen Victoria, who loved this light, fluffy cake, made from equal parts butter, sugar, eggs, and flour. Traditionally, two layer cakes were sandwiched together with raspberry jam and whipped cream. To make it more manageable for serving guests, divide the batter into mini muffin tins. Once they are baked, top the cakes with a dollop of whipped cream and a fresh raspberry. This cake is deceptively airy and seemingly sinless, yet it has a distinct, rich flavor of butter. Whipped cream seeps in the cake for added moisture. Acting as a bright, attractive garnish, the tart raspberry also gives the cake a fresh, astringent accent. Here's how to make Victorian sponge cake.
Mini Victorian Sponge Cakes
From Anna Monette Roberts, YumSugar
Ingredients
2 sticks (8 ounces) unsalted butter, softened to room temperature, plus more for greasing
1-3/4 cups all-purpose flour
2 teaspoons baking powder
1 teaspoon salt
1 cup plus 3 tablespoons granulated sugar
3 large eggs
1 can whipped cream or 1 batch of basic homemade whipped cream
2 8-ounce containers raspberries
Directions
Preheat oven to 350ºF. Grease 3 dozen mini muffin tins with butter. In a large bowl, sift flour, baking powder, and salt together.
Using a standing mixer or a hand mixer with a large bowl, cream butter and sugar on medium-high for 4 minutes, or until light and fluffy. Add in eggs, one at at time, beating mixture thoroughly between each egg. Turn off mixer and use a wooden or metal spoon to fold in flour mixture thoroughly.
Fill each muffin tin two-thirds of the way full, and bake for 15-20 minutes or until toothpick test inserted in the middle of the cake comes out clean.
Let cakes set for 2 minutes, then carefully remove them using a butter knife. Allow cakes to cool to room temperature before decorating.
When cakes are cooled, dollop 1-2 tablespoons whipped cream on top of each cake and garnish with a raspberry.
Makes 3 dozen mini sponge cakes.
Information
Category

Desserts, Cake

Cuisine

English/Scottish/Irish