Video: White House Garden Expanding This Spring
A Closer Look at the Expanding White House Garden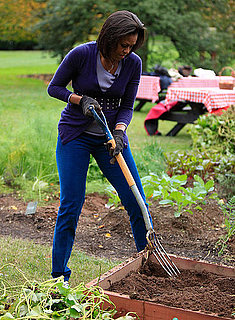 What's new with the White House garden following its fame on Iron Chef America? A video recently released by the White House reveals some interesting facts that you may not have guessed. Despite two huge blizzards and over two feet of snow, the garden survived the Winter to yield spinach, turnips, arugula, lettuce, and carrots.
Top White House garden tender Sam Kass attributed this past Winter's success to plastic hoophouses, which trapped daytime heat to prevent freezing at night. He also revealed that the Spring garden will produce leeks, garlic, and peas, and that the garden is being expanded at the request of First Lady Michelle Obama. Learn more, after the jump.
The adorable Kass makes it look so easy, I almost want to start digging outside my place right now. What do you think of the White House garden?