Vietnamese Food Glossary
From Banh Mi to Banh Xeo: An Abbreviated Vietnamese Food Guide
Although I'm not Vietnamese, I grew up eating at plenty of the Vietnamese restaurants that surrounded my Houston neighborhood. But more than 20 years later, I have a confession: even for me, those menus — with their complicated spellings and manifold accent marks — can be pretty darn confusing!
But regardless of your familiarity with ethnic foods, absolutely don't let the foreign-looking ingredients and dishes deter you. Vietnamese food, which features everything from hearty sandwiches to noodle soups, is the ultimate comfort cuisine. Keep reading for a basic overview of some of our favorite dishes and the ingredients that comprise them.
Dishes:
Banh mi: pronounced "bun mee." A sandwich made from a baguette filled with meat, cilantro, sliced chiles, and julienned carrot and daikon pickles.
Banh mi ga: sandwich with boiled or steamed chicken.
Banh mi thit nguoi: sandwich with mixed meats, such as ham, head cheese, and pate.
Banh mi thit xa xiu: sandwich with Chinese barbecued pork.
Banh xeo: savory pancake made with rice flour, water, turmeric, and sometimes coconut milk, then filled with pork, shrimp, and bean sprouts. Served with basil, mint, and other herbs, and fish sauce for dipping.
Bun cha gio: Fried spring rolls served over vermicelli noodles, with herbs, pickled carrot and daikon, crushed roasted peanuts, and fish sauce.
Bun thit nuong: Rice vermicelli served with barbecued pork, mint, fish sauce, and herbs.
Cua rang muoi: Crab roasted in a salt crust.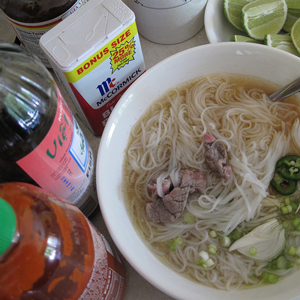 Pho: pronounced "fuh," a noodle soup originating in Northern Vietnam during the late 1800s. Made with a meat-based broth spiced with star anise, cinnamon, ginger, cardamom, and coriander for up to 10 hours; served with rice noodles and meat, then topped with fresh green herbs.
Pho bac: delicate noodle soup variation from Hanoi and other Northern regions; employs wider rice noodles and green onions. May be garnished with lime and fish sauce.
Pho bo: traditional beef noodle soup, made with various cuts of meat, such as brisket, flank steak, tripe, and tendon.
Pho ga: noodle soup made with chicken instead of beef.
Pho nam: noodle soup from Southern Vietnam; employs thinner rice noodles, heavier spices, and plenty of herbs and sauces like Sriracha, hoisin.
Ingredients:
Banh: cake, bread, pie, or pastry.
Canh: soup or broth.
Dau hao: oyster sauce, made from oyster extract, salt, sugar, and spices.
Maggi seasoning sauce: pronounced "mah-jee," this vegetable-based Swiss sauce was brought by French to Vietnam during colonization. It's also used as a dipping sauce.
Nuoc mam: fish sauce, made from fish that's been allowed to ferment. Its strong umami flavor is used for cooking and as a condiment.
Rau que: also known as Thai basil; an herb with long, narrow leaves and purple flowers.
Rau ram: also known as Vietnamese cilantro or Vietnamese coriander; an herb with a lemony, coriander-like aroma.
What's your go-to Vietnamese dish?
Source: Flickr Users stu_spivack and phigonggoi