 Over the long weekend I finally got around to experimenting with my new popsicle mold. The final result was perfect for the hot Summer months and a coffee lover's dream, a coffee popsicle! I used Vietnamese-style coffee — a simple concoction of sweetened condensed milk and strong coffee, traditionally served over ice — as my inspiration. These frozen delights were cool, refreshing, and oh so delicious. Packed with a caffeine punch, these popsicles are super simple to make. The hardest part is waiting for them to freeze!
This popsicle recipe can easily be altered to suit any coffee taste so feel free to add vanilla, mocha, or chocolate. To learn how to freeze your favorite coffee beverage, please
.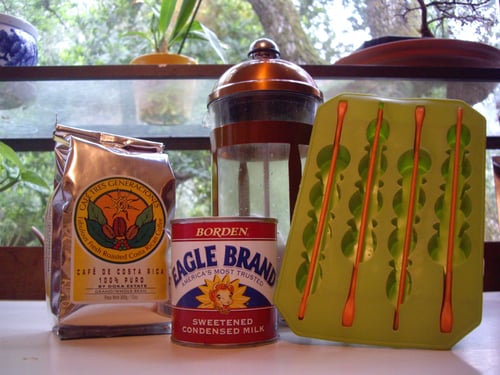 Vietnamese-Style Coffee Popsicles
Original recipe
Ingredients
1/4 cup sweetened condensed milk
1 3/4 cup water
1/4 cup freshly ground espresso coffee
Directions
1. Brew the coffee to a strong robust flavor. Using a French press, it takes approximately 10 minutes. I love French press but any other coffee brewing method would also work.


2. Pour the sweetened condensed milk into a separate bowl.
3. Slowly pour the hot coffee into the bowl with the sweetened condense milk. Stir.
4. Chill coffee and sweetened condensed milk mixture in the refrigerator until cool.
5. Strain the coffee, if needed.


6. Fill popsicle forms and place in freezer.


7. Once frozen, pop out of the form and enjoy!


Makes 4 popsicles.
Information
Category

Desserts, Frozen