Von Buhl Armand Riesling Kabinett Review
Wine of the Day: 2011 Reichsrat von Buhl Armand Riesling Kabinett
Over Labor Day weekend, while everyone in America is plotting a grillout menu or basking on the beach, I'll be somewhere in the southern region of Germany tasting Riesling with the Wines of Germany. Of course, to get myself into the spirit, there's only one thing I could possibly be drinking: Riesling, the varietal that put Germany on the wine map.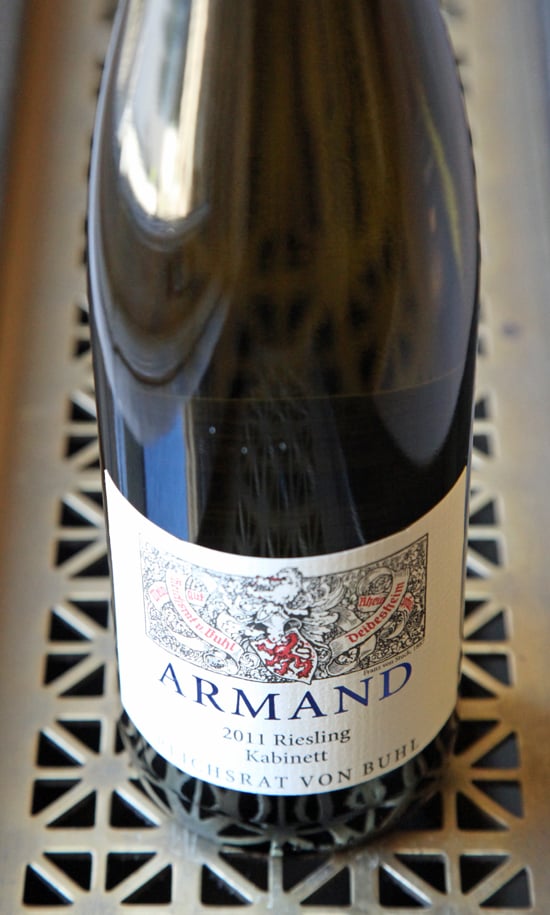 The Sugar HQ Riesling of the moment? The 2011 Armand Riesling Kabinett from Reichsrat von Buhl ($20). Despite its modest price tag, the wine hails from one of the most respected wineries in Germany, von Buhl.
In our tasting, its green-tinged straw hue belied the dynamic aromas inside the glass — notes of peach, nectarine, vanilla, lemon-lime, and even pear. The aromas gave way to a zingy sip of white stone fruit with a lot of acidity and a lingering, well-balanced finish.
This wildly quaffable bottle isn't just ideal for a sendoff to Germany; it also makes for a pick-me-up at the end of a warm Summer night, preferably with a strong, creamy cheese or a light fruit dessert.
Photos: Nicole Perry