Walmart, Walgreens Join Michelle Obama to Combat Food Deserts
Retailers Join Michelle Obama to Combat Food Deserts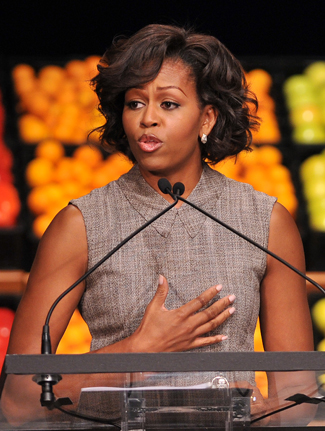 This afternoon, First Lady Michelle Obama will be joined by corporate chiefs from Walmart, Walgreens, Supervalu, and other national and regional chains to announce a new initiative to open or expand more than 1,500 retail stores in an effort to bring healthier food to underserved areas. It's the latest push in Obama's Let's Move! campaign to solve the epidemic of childhood obesity.
These changes, according to the Domestic Policy Council, will affect 9.5 million people and could create as many as tens of thousands of new jobs. As part of the campaign, Walmart will open 275 to 300 stores in food deserts between now and 2016 and continue its efforts to make premium, healthful foods like whole wheat pasta more affordable for low-income shoppers. Walgreens will expand its fresh fruit and vegetable offerings, among other nutritious options, to at least 1,000 stores.
The USDA defines a "food desert" as a place where 33 percent or 500 people (whichever is less) live more than a mile from a grocery store in an urban area, or more than 10 miles away in a rural area. Currently, 23.5 million Americans — 6.5 million of them children — live in low-income areas that are less likely to have affordable, wholesome foods.
How exciting that fruits and vegetables will soon be available in low-income retailers — drugstores, even — across the country. Still, it's hard not to question the incentives of America's retail giants. What do you think of the announcement?