Walnut Pesto
Better-Than-Basic (but Just as Easy) Walnut Pesto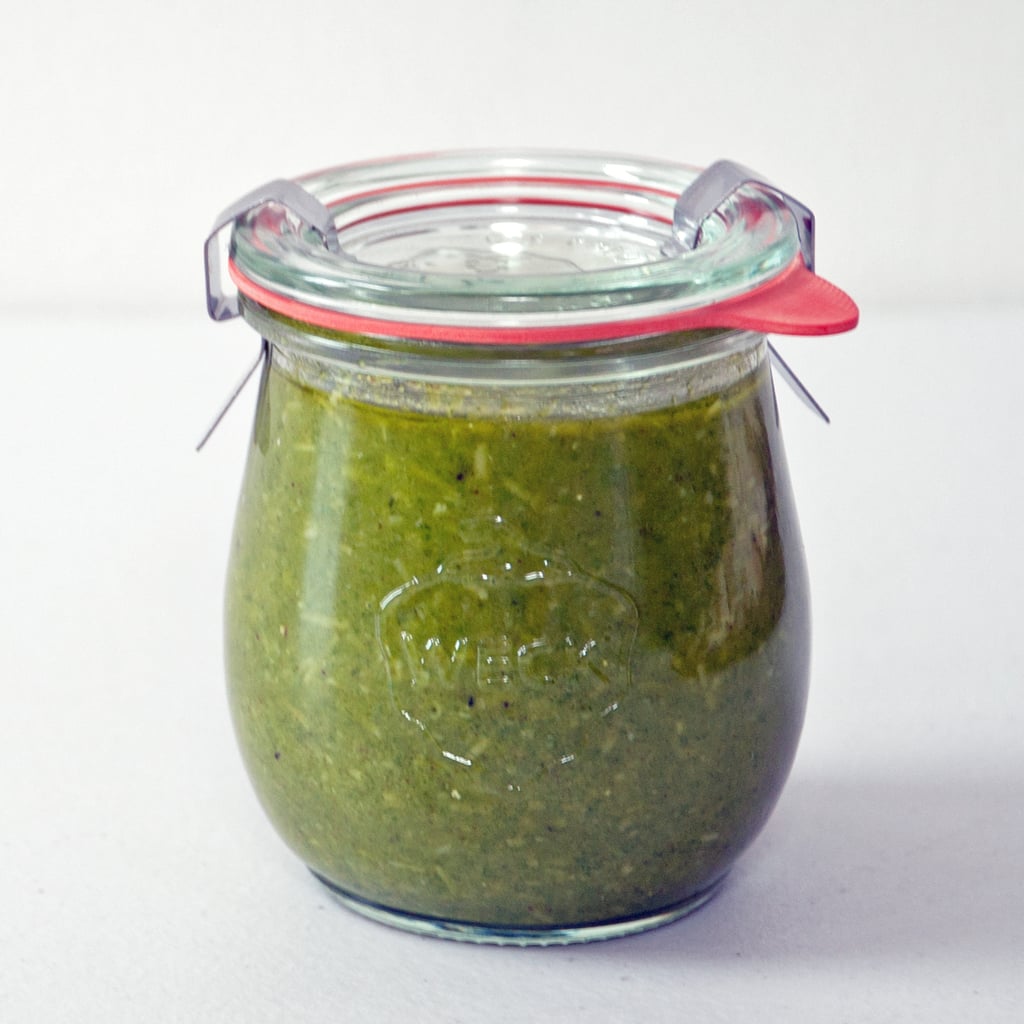 Until my late teens, I incorrectly assumed that classic pesto got its backbone from walnuts. This notion came from years spent as a small child helping my step-grandmother, Grenelle, blitz up batch after batch. Every Summer she'd harvest her backyard basil crop, and we'd spend afternoons tucking away containers of walnut-based pesto in her basement freezer to enjoy year-round. Most (if not all) was enjoyed simply — with a platter of saltine crackers, ham, and cheese — though throughout my youth, I shunned pesto for its pungent odor and suspect color.
Years later, after I realized the error of my ways, I dived into a passionate love affair with all things pesto. I called Grenelle for her recipe, remembering the pesto's legion of household fans. I scribbled down the recipe on scrap paper, where it lived for many years, splattered with olive oil. Then one day, while flipping through a tattered copy of the Silver Palate Cookbook, I learned her secret.
She may not have invented this recipe, but today I still consider it Grenelle's pesto. Though pine nuts star in the classic Genovese version, to this day I prefer pesto made with walnuts, as the delicate flavor of pine nuts can get lost amongst the assertiveness of parmesan and raw garlic. Chances are, this version will make you a walnut pesto convert.
Get the zesty recipe.
Ingredients
2 cups extra-virgin olive oil
6 large or 8 small cloves garlic, peeled
2 cups (7 ounces) walnuts, toasted
Juice from half a lemon
4 cups (6 ounces) basil
2-1/2 cups (6-1/4 ounces) parmesan, finely grated
1 to 1-1/2 teaspoons kosher salt
Freshly cracked black pepper, to taste
Directions
Puree the olive oil, garlic, walnuts, and lemon juice in a blender or food processor until smooth.
Add the basil in two batches, blending until smooth. Transfer the pesto base to a large mixing bowl.
Fold in the parmesan, salt, and pepper. Seasoning to taste as necessary.
Makes about 4 cups.
Information
Category

Other, Condiments/Sauces

Cuisine

Italian