Watermelon and Feta Skewers Recipe
Watermelon Feta Skewers Are Easy as 1, 2, 3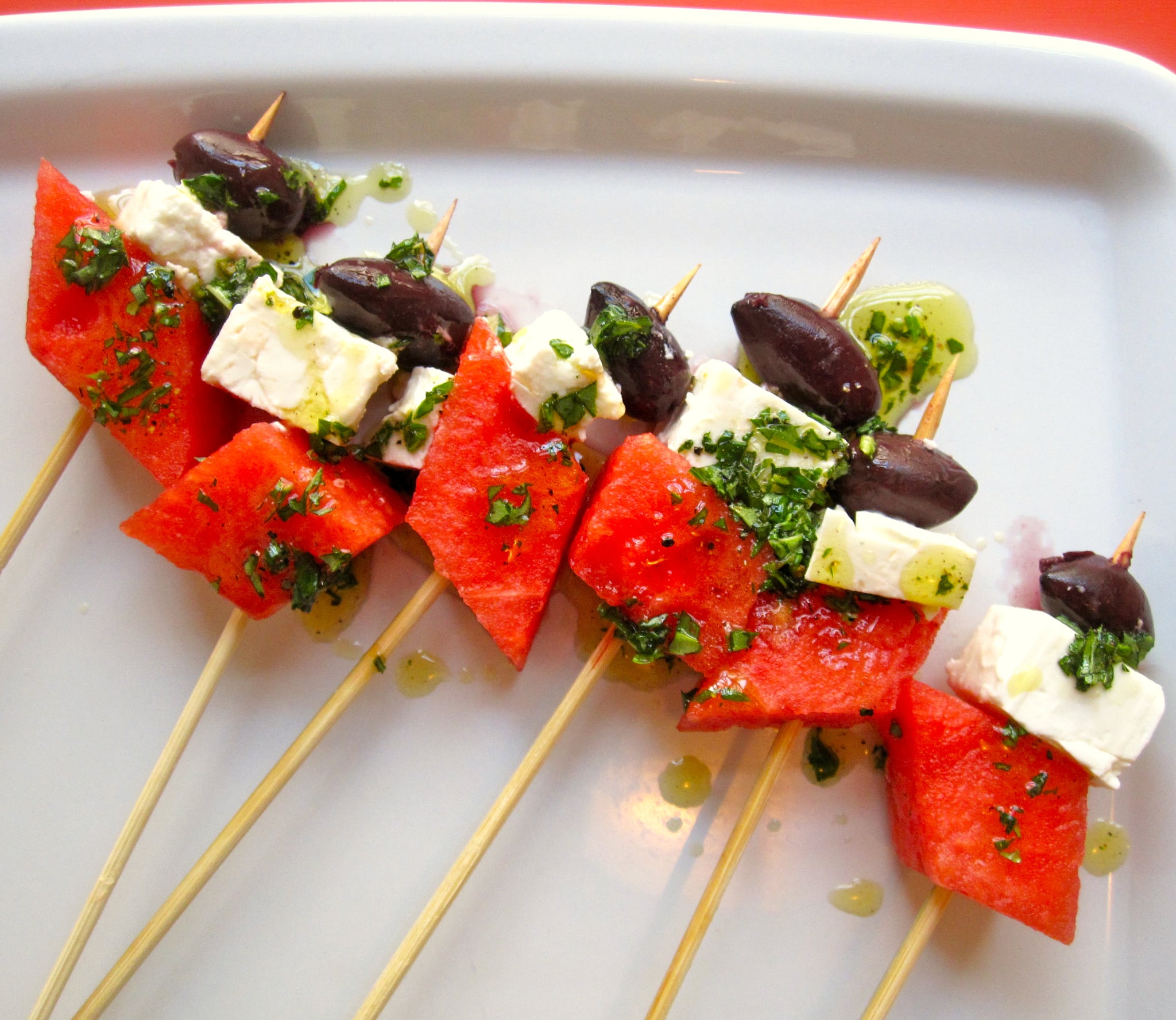 Why do so many impromptu parties happen in the Summer? It seems like every weekend I'm running around trying to quickly throw together a refreshing pitcher drink or frozen dessert or fast appetizer. My latest creation when it comes to easy entertaining are these fruity and salty skewers. They're super simple to make, fun to eat, and taste delicious!
I used watermelon, feta cheese, and Kalamata olives, but if you don't like olives, the combination of watermelon and feta is a classic crowd-pleaser. These skewers were drizzled with basil oil, but any herb you have on hand (mint, cilantro, parsley, etc.) would pair with the watermelon. Read more to check out the recipe that's so uncomplicated it almost shouldn't be called a recipe!
Watermelon and Feta Skewers
From Katie Sweeney
Ingredients
2 tablespoons minced herbs (cilantro, parsley, basil, or mint)
4 tablespoons olive oil
Salt and freshly ground black pepper
16 wooden skewers
16 bite-sized cubes of seedless watermelon
16 1-inch by 1/2-inch slices of feta cheese
16 pitted Kalamata olives
Directions
In a small bowl, whisk together the herbs and the olive oil. Season with salt and freshly ground black pepper. Set aside.
Hold one of the wooden skewers in your hand and slide on a watermelon cube. Gently slide on a piece of feta cheese and top with a black olive. Make sure that there isn't a lot of skewer sticking out at the top. You want people to be able to slide all three ingredients into their mouth at the same time. Repeat with the remaining skewers, watermelon, feta cheese, and olives.
Line the skewers up decoratively on a serving platter and season with salt and freshly ground black pepper. Drizzle the herb oil over each of the skewers. Serve immediately.
Serves 4.
Information
Category

Fruit, Appetizers

Cuisine

North American