Ways to Eat Cereal
Ditch the Milk! 5 (Even Better) Ways to Eat Cereal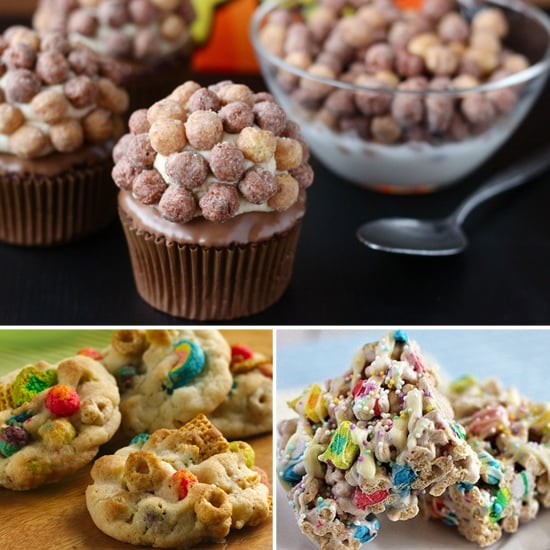 There's nothing like slurping a big spoonful of crunchy cereal from a bowl of cold milk. But in the event that you simply don't "got milk" or want to mix it up a bit, you and your cereal should look no further. Between the sugary (mom's favorite), the fruity, and the crunchy, there's rarely a cereal that's not good to eat beyond the bowl. If you're feeling adventurous or need an excuse to eat cereal past breakfast, try these five ways to enjoy your favorite snack.
Tasty toppers: If you're bored with milk and love the taste of a creamy cup of yogurt, just add cereal! Making a parfait using a crunchy cereal like fresh pumpkin spice granola or a simple cereal such as Raisin Bran will give your cup of yogurt that extra crunch. Don't forget to drizzle your parfait with honey and top it off with your favorite seasonal fruit.
Snap, crackle, pop: Rice crispy treats are a treat loved by both kids and adults just made using basic rice cereal, but did you know that the sticky treats can be taken to another level? The next time you go to make these gooey bars, try using your favorite cereal. For a treat loaded with marshmallow, try Lucky Charm treats, or add peanut butter and chocolate to classic rice cereal bars.
Do dessert: If chocolate isn't your thing but cereal is, try using the breakfast item as a dessert topping. Top off frozen yogurt or ice cream with Cocoa Puffs, Cap'n Crunch, or even granola for a sweet treat and a fun way to enjoy your cereal at night! And although you might not expect it, you can even use cereal as a cupcake topping.
Cookies with crunch: Cereal and cookies? Say it ain't so! If you've never tried kitchen sink cookies and you're a cereal guru, then you're missing out: these cookies almost always call for cereal. For even more cookie and cereal madness, try bottom of the cereal box cookies, which combine six different types of cereal into one bite.
Snack time: If you love to munch throughout the day, make a cereal trail mix. Combine your favorite cereals together or mix cereal into a handful of nuts, dried fruit, and even chocolate! With a snack like this, you can have your cereal and eat it too (without spilling).