Ways to Use Up Pumpkin Seeds
Beyond Snacking: More Ways to Use Pumpkin Seeds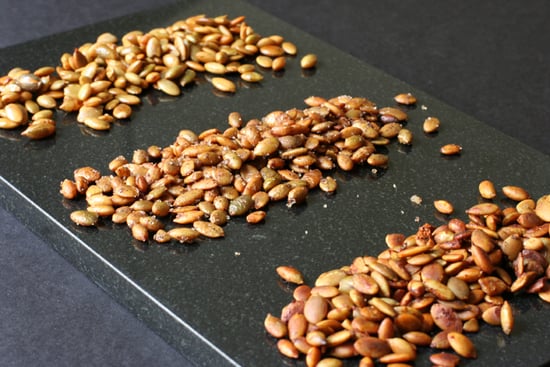 Olive oil and salt, sweet spiced, and soy sauce pumpkin seeds
Pumpkin is arguably the most prominent flavor of Fall, but when you're craving something crunchy, opt for pumpkin seeds over the tender orange flesh. Here, we offer three simple twists on roasted pumpkin seeds — and the easiest way to dress up your food with them.
Olive Oil and Sea Salt Pumpkin Seeds
A classic, toasted with olive oil and sea salt, these pumpkin seeds are great to have on hand to toss into snacks and side dishes like . . .
Popcorn: Pumpkin seeds have a roasted flavor that complements popcorn. Add some plain M&M's to the mix for a sweet, salty, and crunchy snack.
Grain salads: Create a grain salad using wild rice, quinoa, or millet. Simply add your dressing of choice, pumpkin seeds, and dried fruit like cranberries or apricots.
Trail mix: Make your own trail mix with pumpkin seeds, dried fruit, chocolate chips, and other nibbles from your pantry.
Keep reading for more pumpkin seed recipe ideas.
Sweet Spiced Pumpkin Seeds
Roasted in melted butter, vanilla, sugar, and pumpkin pie spices, these sweet pumpkin seeds can be mixed into everything from breakfast to dessert. Try them in . . .
Greek yogurt: Top plain Greek yogurt with a hefty handful of these spiced pumpkin seeds along with fresh apple chunks for a breakfast that resembles apple pie.
Granola: Pumpkin seeds are an appropriate addition to any granola recipe (like this pumpkin spice granola).
Baked goods: Press pumpkin seeds into the dough of these pumpkin cookies prior to baking or sprinkle them over the icing of these pumpkin cupcakes.
Soy Sauce Pumpkin Seeds
Unlike the other recipes, which are toasted in an oven, these pumpkin seeds are roasted in a wok, then covered in soy sauce at the last minute of cooking. The soy sauce dries quickly onto the pumpkin seeds and makes them salty and savory. Toss a few into . . .
Salads: Any Asian-themed salad like a bento salad would benefit from a handful of these nutty-flavored pumpkin seeds.
Stir-fries: Rather than dousing your stir-fry with soy sauce, sprinkle these pumpkin seeds on top of stir-fry dishes to offer saltiness.
Eggs and rice: If you haven't tried it, make fried eggs and rice for breakfast. Toss the seeds on top for a contrasting crunch.
What do you do with leftover pumpkin seeds?