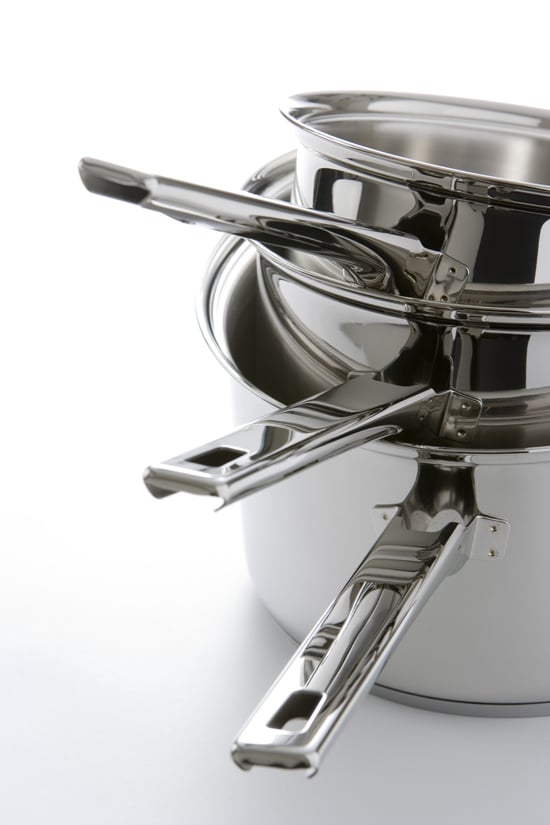 Though we may be loathe to admit it, one of the most exciting — and frenzied — moments of wedding planning is setting up a registry. While deep down I knew that marrying the man of my dreams was the best present of all, other visions, like that of a perfectly appointed home, turned me into Dirty Harry with the scanner gun. A fondue set? I'll take two. The enormous countertop convection oven? We'll make room. Salt and pepper shakers shaped like mated doves? You get the picture.
It's easy to go crazy when registering for wedding gifts, but ending up with a pile of things you'll never use results in annoying trips back to the store for returns or very full storage closets. Eight years after my perfect wedding, I can't help but think that I should have provided my generous guests with better direction as I watch the dust collect on the paella pan I've never used. Every bride's needs are different, but I've come up with a list of five items from my registry that are highly underutilized and five items for which that money would have been better spent. Tell us: what are your must-have registry items, and what do you wish you left off your list?
Five Things I Could Have Done Without
Preassembled cookware sets. Those 10- or 12-piece cookware sets may seem like a great deal with many stores advertising "deep" discounts vs. buying individual pieces, but I found that I ended up with pots and pans in sizes I've never used. Take the time to register for individual pieces (you may even find that you like pieces from a few different cookware lines) in standard sizes that make sense for your frying, sautéing, and simmering needs.
Cooking utensils. Basic utensils like rubber spatulas and wooden spoons are a wedding-registry must have. But I've found that many of the specialized tools I thought I would need have gone untouched. There are so many variations of potato mashers, strainers, ladles, and whisks that you ought to take your time finding the perfect one for you.
High-ticket single-use tools. Cookware companies would love to sell you pasta cookers, egg poachers, asparagus pots, and butter warmers, often at a few hundred dollars a pop. My pasta pot rarely sees the light of day, because I opt instead for a standard stockpot and colander (which drains much better, IMO). By investing in the right standard pots and pans, you still can cook any of these items and save room in your kitchen cabinets while you're at it.
For the rest of the list as well as a list of items I'd register for instead, just keep reading.
Fine china. As much as I love my china pattern, the entire set is still sitting in boxes in the garage. We've always intended to use it for dinner parties, but ultimately the thought of hand washing and drying each piece has scared us away from unveiling it.
Extraneous appliances. If you're a coffee addict, by all means register for your dream coffeemaker. But if you think you might one day get into juicing or making waffles, don't pull the trigger just yet. Appliances take up a lot of space, and unless it's something that will get heavy use, you're probably better off waiting until you really need it.
Five Things I Could Have Used Instead
More serving pieces. It's tough to predict what kinds of serving dishes you'll need when faced with your registry store's wall of options. But whenever we have guests over for dinner, I always find myself scrambling to find something large, small, or deep enough to elegantly present my kitchen creations.
A rice cooker. Some folks are experts at cooking rice on the stove. I am not one of those people. Every attempt I've made ends up crispy on the bottom and mushy in the center. We later invested in the mother of all machines, which can cook rice in 10 minutes, and I use it for everything from Spanish rice to beans to one-pot dishes.
Lightweight utility and prep bowls. Heavy ceramic mixing bowls are great for baking projects, but more often than not, I find myself looking for a small receptacle to hold my minced garlic while I chop other vegetables or a wide, stainless steel bowl to whisk dressing and toss a large amount of salad. Some glass prep bowls and a set of lightweight mixing bowls are indispensable and not always the first thing you think about adding to your registry.
Steaming baskets or bamboo steamers. With the bounty of in-season veggies this Spring, I'm all about steaming them to bring out their flavor and crispness and end up using steaming baskets a few times a week. And steaming is a great way to cook whole fish and fish fillets in a pinch while retaining their moisture.
A good oven thermometer. After living in more rental apartments than I can count on both hands and inheriting a '90s-era range from my house's previous owners, I have learned that you can never trust the built-in temperature gauge. Ask for a sturdy, easy-to-read oven thermometer and never second-guess your oven again.