Wedding Signature Cocktail Ideas From Colin Cowie
Everything You Need to Know About a Signature Cocktail
The following is a guest post written by Colin Cowie, wedding planner and lifestyle guru. This week Colin teaches us all about the signature cocktail.


"Shaken, not stirred." Those are the famous lines uttered by James Bond when ordering his signature martini. It can, without a doubt, be credited as the grandaddy of what we now call the "signature cocktail." I guess we've all just become a little more specific as to what we like, how we like it, and when we want it. No longer is that special drink reserved for an evening out with a skilled bartender crafting it to your liking. Years ago it was the apple martini — still in vogue I might add. Then it was all about the Black Russian, then the White Russian, and of course, with all the designer vodkas on the market, many other drinks. Now your "signature cocktail" is just that: it's all about you and is absolutely anything you want it to be.
For Colin's tips on crafting the perfect signature cocktail, keep reading.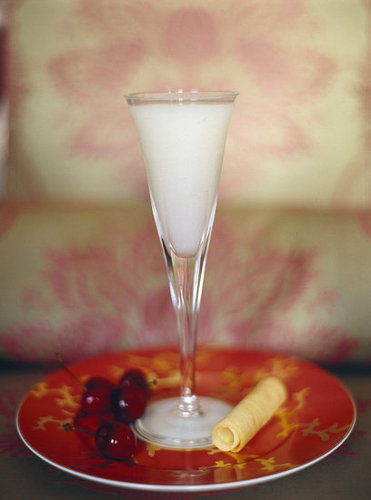 Rather than offering your guests red and white wine, champagne and open bar, serve them something you enjoy, something unexpected. You'd be surprised how a tray of martinis prepoured and waiting or an ice-cold gin fizz can't be resisted as your friends say, "You know what, I'll have one please!"
There are really three approaches to a signature drink: pitcher drinks for the more casual do-it-yourselfer; premade syrups that can be given to any bartender along with a recipe; and of course the completely over the top, but a sure party-starter, an in-person master mixologist.
Pitcher Drinks
A pitcher of martinis waiting to be poured over ice doesn't require countless bartenders to mix and pour. A chic self-service martini bar can be set with glassware ready and waiting. Guests can take it one step further by even personalizing theirs with olives, pickled onions, or sliced jalapeños.
Syrups
Syrups are another great way to maximize the impact without busting the budget. Simple syrup or flavored syrups that get mixed with alcohol can be made well in advance and given to just about any bartender with a recipe to follow. Seems simple enough, but the flavors are anything but. Try a rosemary syrup, a lavender syrup, a chocolate syrup, or even a citrus syrup poured into a glass, topped with vodka and ice. So delicious, so unique!
Master Mixologist
And then there's the master mixologist. They've definitely taken the art of the well-crafted cocktail to another level: the glass, the garnish, a recipe created specifically for the occasion, and of course, the show. When it comes time to actually mix the drink, whether it's a shake, shake, shake over the shoulder, a rimming of the glass, or a burst of fire to spark your senses, these are showmen and the cocktails they craft add another personal touch to making your wedding personal, and allow it be all about you.
One of my favorite signature cocktails is the Scroppino. It's a great Summer cocktail made with Prosecco, vodka and lemon sorbet. Blended and served in a champagne glass – delicious!
To get more of Colin's wonderful wedding recommendations, sign up for his newsletter, Colin Cowie Wedding Notes.


Source