What's an Arepa?
Definition: Arepa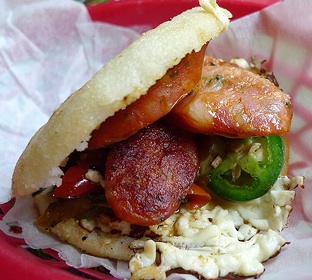 In San Francisco, plenty of ethnic street food specialties have come to the forefront, thanks to the proliferation of food trucks. The arepa is one that's gotten a lot of recent publicity.
The cornmeal flatbreads known as arepas are native to the countries of Colombia and Venezuela (although they are also found elsewhere, such as in Panama). They're made of ground corn, water, and salt, either grilled, baked, or fried, and then stuffed with a filling.
Arepa fillings vary widely depending on region and circumstance, but may include chicken and avocado, cheese and pulled meat, beans, plantains, or eggs. Have you ever tried arepas?
Source: Flickr User arnold | inuyaki