What Is Baumkuchen?
Meet Baumkuchen, Germany's Glorious Cake on a Spit
I'm not much of a German food aficionado, but a few years ago, I read a New Yorker article about Germany's "king of cakes" that's been forged in my mind ever since. In the story, Mimi Sheraton embarks on a fervid quest for baumkuchen, a ringed, hollow cake that's made on a spit with layer after painstaking layer of batter, then iced with a coating of chocolate or sugar.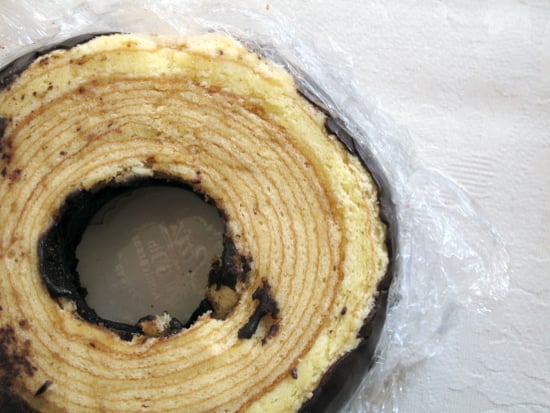 Photo: Susannah Chen
Her pursuit of the dying art led her to Lutz Café and Pastry Shop, which she proclaimed to be "the closest to Kreutzkamm's famous German bakery that I have found." When I was in Chicago last weekend, I made a trip to Lutz to see what the hype was all about.
Despite the busy street it's on, the Germanic bakery was quiet and unassuming, which allowed all of its baked goods to speak for themselves. Of course, I made a beeline for the baumkuchen. While Lutz makes its cakes on the premises, I wasn't able to see the rare spit machine in action. But I did admire the whole baumkuchen, over a foot tall, in their completed state; the sugar-glazed and chocolate-coated versions were treelike in stature.
Source: Flickr User RuckSackKruemel
But it was cutting into a cross-sectioned slice that truly revealed the cake's intricate construction: crepe-thin layer after crepe-thin layer formed delicate concentric circles, not unlike a California redwood. The composition factored into the texture of the baumkuchen, which was both springy and dense. Its flavor — mildly sweet vanilla with a almond aftertaste — called for a cup of coffee. As I left Chicago, I prepared to mourn my new breakfast ritual — that is, until I learned that Lutz ships across America, even overnight.
Have you ever tried baumkuchen?