What Is Bresaola?
Know Your Ingredients: Bresaola
At the Fancy Foods Show, I found myself drawn to paper-thin slices of dark, purple-hued cured meat. I quickly learned that the ultratender, sweet meat was something called bresaola, also known as beef prosciutto. Bresaola is an air-cured, spiced, and salted cut of beef that is aged for several months. The cut comes from the hind leg of the animal and is best served thinly sliced as an antipasto.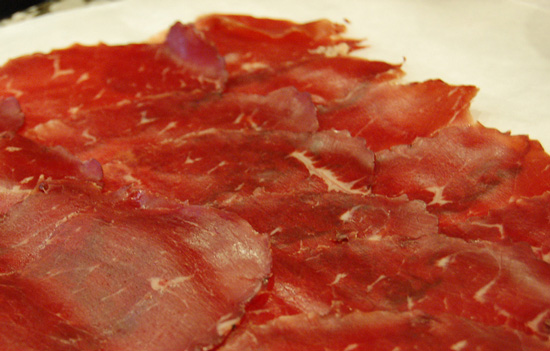 While the beef cut (usually the eye of round) is very tender, unlike prosciutto, it's extremely lean and has no visible fat. Valtellina, the Alpine valley in Lombardy where bresaola was first conceived, is a protected geographical indication; those made in the same style outside Valtellina are often labeled "viande séchee" instead. The most popular way to serve bresaola is sliced on its own as an appetizer. It is often drizzled with olive oil or vinegar in the style of beef carpaccio, or served on top of salads and pizza. Have you ever tried bresaola?
Source: Flickr User snowpea&bokchoi