What is Campari? Recipe for Campari Squeeze
Happy Hour: Campari Squeeze I'm still rather novice to the category of spirits known as aperitifs. These old-school standbys — which include liqueurs, dry champagne, and fortified wines — rose to fame in Europe in the 1800s, and have remained popular ever since.
I'd made it my mission to educate myself in aperitif studies, and after professing my love for Dubonnet, I felt adventurous enough to move onto the Italian spirit known as Campari. Invented in 1860, this bitter, which is used in a slew of different cocktails, is made by infusing alcohol and water with fruit, bitter herbs, and aromatic plants. Campari on the rocks is far too bitter for me, but I loved its complex, fruity, slightly medicinal flavor in the Campari Breeze, a cocktail that's perfect for warm-weather days.
To cool off on a sweltering weekend, I doubled the recipe for a bigger thirst quencher, employing Party's advice to save the ice until last. To see the recipe,
.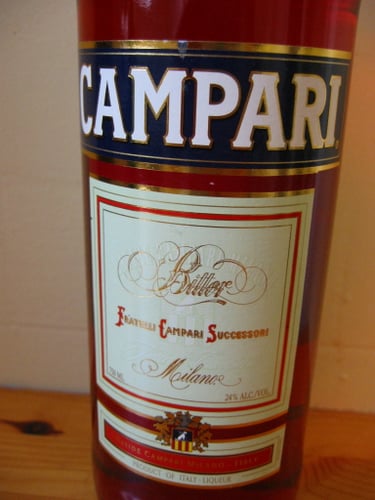 Ingredients
Ice cubes
2 shots Campari
2 splashes red grapefruit juice
2 splashes club soda
2 orange peels
Directions
Add the Campari and grapefruit in a shaker with ice, and shake.
Pour into 2 glasses filled with ice. Top off with some club soda and garnish with an orange peel.
Serves 2.
Information
Category

Drinks, Cocktails