What Is Chaat?
Definition: Chaat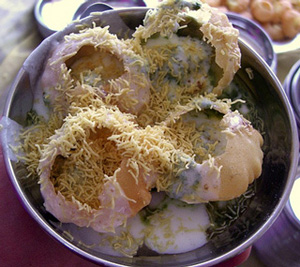 Since the explosion of street food onto the food scene, an Indian specialty called chaat has become more popular in the United States.
Pronounced "chahht," the word is used to describe any wide range of sweet or savory dishes found in the street stalls of India and Pakistan.
Although it had origins in the northwest Indian state of Gujarat, chaat quickly became popular in all of South Asia.
There, chaatwallas, or chaat vendors, serve up everything from stuffed breads to deep-fried pastries with dipping sauces. Because chaat tend to be small dishes, they are either eaten alone as a snack, or combined to form a meal. A growing number of restaurants specialize solely in chaat. Have you ever tried it?
Source: Flickr User willsfca