What to Do With Basil
6 Unusual Uses For Basil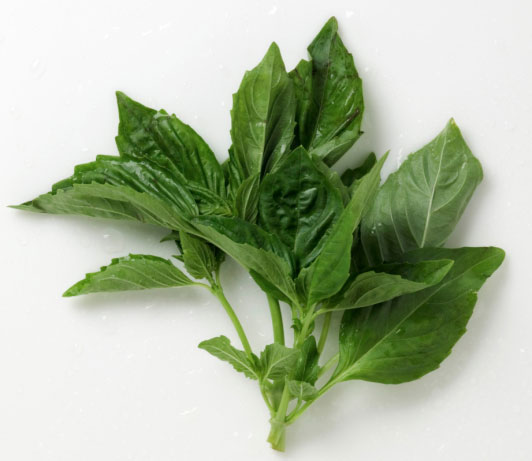 Basil is the Summer's most beloved herb, and when it's in season, I simply can not get enough of it. While classic preparations like pesto and pizza margherita are great ways to use basil, there are plenty of other methods that highlight the fragrant herb's wonderful flavor. Here are six suggestions for making the most of that basil bounty.
Drinks. Unlike some herbs, such as rosemary, basil has a subtle earthy quality that's not overpowering. Think of it like mint and use the delicate leaves in a beverage or cocktail. Add muddled basil to lemonade, bellinis, or gimlets.
Salads. Basil is an essential ingredient to Caprese salad, but it also adds freshness to any mixed green salad. Simply toss torn basil leaves with greens and you've got a sophisticated take on the mixed green salad.
Get the rest of my ideas after the break.
Sandwiches. Instead of putting lettuce in your everyday sandwich, substitute basil leaves. They're delicious on everything from turkey with tomatoes to peaches with pancetta.
Desserts. When combined with sugary components, basil makes a sweet treat. At a seminar at the Food & Wine Classic in Aspen, Gail Simmons demonstrated a scrumptious-looking basil and pistachio ice cream pie. Basil also makes a refreshing and palette-cleansing sorbet.
Pasta. Don't just toss basil with cooked pasta, but instead, make homemade basil pasta! Add pureed basil to the dough before rolling out the pasta.
Infuse oil. Capture the essence of basil and use it in the months to come by making an infused oil. Steep warm oil with lots of basil leaves for a long-lasting pantry essential. Or puree oil with basil for a quick and flavorful use-now flavoring agent.
What's your favorite use for basil?