What Goes Into the Cost of Wine?
Wine, by the Numbers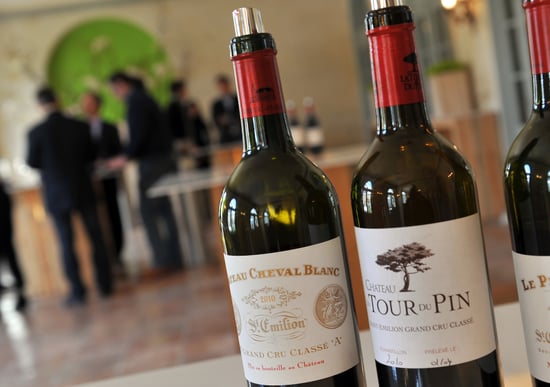 One of the most informative seminars at the Food & Wine Classic was taught by sommelier (and James Beard Award winner) Belinda Chang. She's made her name as the wine director at The Modern restaurant in New York City. The 2011 Outstanding Wine Service Award winner — whose seminar was titled "Bling vs. Bargain? Guess the Wine Price" — tackled the question of whether price makes a difference when it comes to wine.
Attendees tasted two glasses of sparkling, Chardonnay, and Bordeaux blends, respectively, and were asked to guess which was higher-priced. While we assessed each wine's value, Chang also shared details on what goes into the price of wine. Better understand why a wine costs what it does after the jump.
A number of factors determine the price of wine, like supply and demand, particularly in scenarios like that of the coveted Grand Cru Bordeaux. But there are also other standard costs, including labor, real estate, grapes, barrels, fuel, machinery, bottles, labels, corks, marketing, and winemaker and staffing expenses. Take a look at the price breakdown for a $100 bottle of Napa Valley Cabernet:
Cost to Produce a $100 Napa Cabernet

| Description | Cost |
| --- | --- |
| Grapes (to buy) | $7.00 |
| Labor (harvesting grapes) | $6.67 |
| Winery costs (maintenance, etc.) | $6.82 |
| Barrels (to buy) | $2.67 |
| Glass bottles (to buy) | $1.50 |
| Other (labels, corks, etc.) | $3.59 |
| Total cost to produce | $28.25 |
While I was surprised to find out how high some of the costs were (how can a bottle cost $1.50 when Two-Buck Chuck is $2? Think about that!), it was also a wake-up call to learn that many wines are marked up anywhere between 300 and 600 percent retail — or more, especially if you're ordering a highly sought-after bottle. Here's what some wines look like, on average:
Wine Costs in Brief
Wine Description
  Cost to Produce  
  Retail Price
  Markup
Generic 2006 Bordeaux
$2
$12
600 percent
2000 Dom Pérignon
$33
$150
455 percent
2005 Chateau Pétrus
(Bordeaux first-growth equivalent)
$45
$4,000
8,889 percent
Do these figures shock you?