What Is a Heat Diffuser?
Prevent Stovetop Scorching With a Heat Diffuser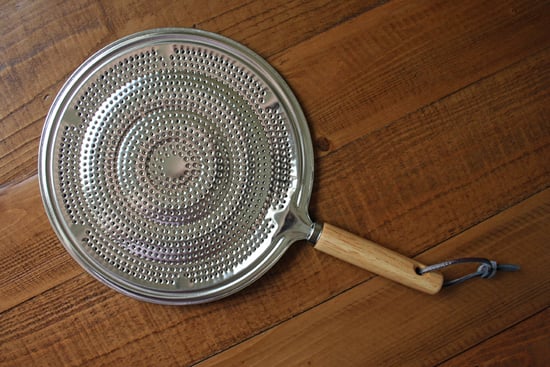 If you've got a powerful gas stove like mine, you'll know it's virtually impossible to set the flame to low; all too often I'll turn the nob, only to watch the flame flicker and burn out before I can settle on the right amount of heat. If you're the owner of a gas-lit stove and frequently encounter the same issue, I've got a solution for you. It's called a heat diffuser.
Often used in commercial kitchens, this flat, metal stovetop tool distributes heat evenly and automatically lowers the flame setting. This comes in particularly handy when cooking heat-sensitive items like rice and caramel, which will scorch in a heartbeat. In these scenarios, a heat diffuser can help control the flame and improve your cooking. Try out these three significant ways use a heat diffuser.
To keep the heat low: Whether the recipe calls for the milk to be scalding or for a low simmer, a diffuser will help keep the flame low enough to achieve the perfect temperature. It's especially helpful for water absorbing grains like rice and oatmeal, so you don't end up with a layer of burned starches at the end of the cook time.
To warm coffee: If you don't have a coffeemaker (or prefer French press or pour-over coffee), keep your java hot by placing a pitcher of coffee on the heat diffuser over a low flame
To toast flatbreads The adorable old lady who works at my neighborhood kitchen supply claims she sees Hispanic women toasting their tortillas on a heat diffuser. I couldn't think of a better way to warm the tortilla without scorching it on the direct flame. I imagine heating naan and other ethnic flatbreads would heat to perfection via a heat diffuser too.
Heat diffusers can range in price from the extremely affordable Norpro 144 Heat Diffuser ($7), as pictured, to pricey, like this nonstick steel Nordic Ware Nonstick Burner Heat Diffuser ($17). I use the Norpro: it comes with a handle, so you can move it without the risk of burning yourself, and it can be hung alongside your stove for easy access. Have you ever cooked with a heat diffuser?