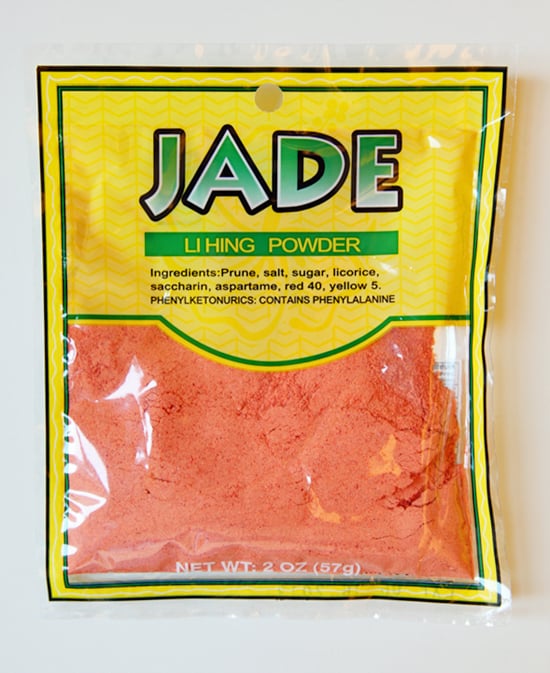 While li hing mui (and not li kung hi, as I've embarrassingly and incorrectly called it for weeks) may be foreign to most American palates, it's as popular in Hawaii as dried chiles are in Mexico. Hawaiians sprinkle the sour, plum-based powder, pronounced lee-hing-moo-ee, on just about any snack food: dried mangos, gummy bears, and even dried squid. And, despite it typically turning up on convenience-store treats, it even has a place in fine dining. Contributing editor Sara Yoo encountered (and couldn't get enough of) the zingy powder at Alan Wong's Amasia in Maui, where the chef prepared a tomato and cucumber salad, drizzled with li hing mui dressing and a sprinkling of rare Kauai sea salt. Keep reading to find out how it fared on our unaccustomed palates.
Despite the obsession in Hawaii, the tart, nearly tear-inducing powder can be an acquired taste for some. Many tasters at Sugar looked like Elmer Fudd when sucking on a li hing mui-laced treat: their eyes widened in horror as their entire faces and ears turned beet red before jetting roadrunner-style to the nearest trash can to spit it out. However, the YumSugar team, all fans of Japanese umeboshi plum vinegar (which is less tart than li hing mui), handled the powdered products like pros.
The flavors of li hing mui bounce around like a pinball across your tongue. At first, it's extremely salty, but it quickly turns sour, then savory like MSG, and, finally, a silky, somewhat artificial sweetness hangs on the tongue (likely due to the aspartame). But the artificial sweetener isn't enough of a deterrent to have us reaching in the bag to experience the flavor roller coaster all over again. We recommend sprinkling it on strawberries and gummy candies, and, for the brave, trying the superintense li hing mui plums themselves.
Photo: Nicole Perry