What to Make With Leftovers
Got Leftovers? Make Empanadas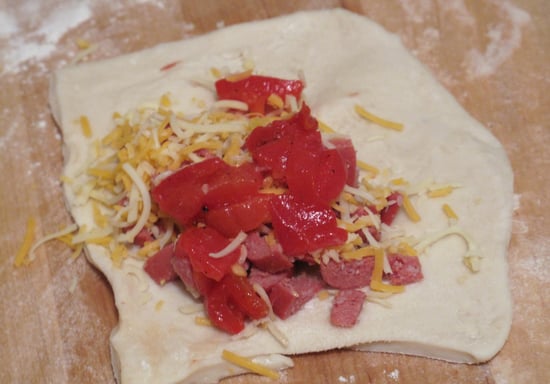 I hate the nagging feeling that I get when I open my fridge to discover far too many random odds and ends: nubs of cheese, leftover scrambled eggs, chopped herbs, bits of sausage or ham. After all, there's nothing worse than watching food go to waste. Find out what I do to solve this problem after the jump.
When life hands us leftovers, some of us make pizza; I've found my own way to stretch my last dollar. I use premade, frozen puff pastry (perhaps also left over from prepping pigs in a blanket or blueberry pies?) to make my own jury-rigged version of "empanadas."
Free-form your own handpies in any size or shape that you want, and fill with just about anything: scrambled eggs, green onions, and salsa; ham, apple cubes, and brie; even roasted or stir-fried vegetables with a little cheddar. You just have to play around with it to suit your tastes. Fold over your dumplings and pinch the ends tight with your fingertips or the tines of a fork; brush with a bit of egg wash to create a golden color. Then bake based on puff pastry instructions and watch these babies turn from trash to treasure in the oven! Minutes later, you've got the perfect on-the-go snack.
What do you do to liven up leftovers?