What Is Matzo?
Know Your Ingredients: Matzo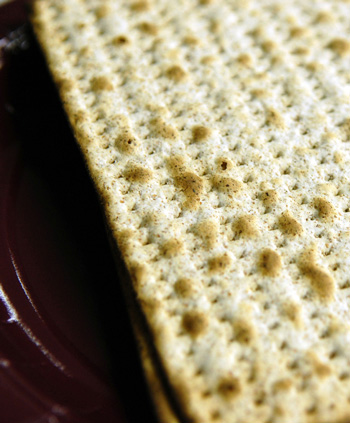 Passover doesn't begin until the end of the month, but it's already impossible to walk into a grocery store and not find products such as matzo crackers, matzo meal, and other items that are kosher for the holiday. But, what exactly is matzo, and why does it play such a crucial role during the Jewish celebration?
Matzo is a bland, cracker-like flatbread made of white plain flour and water. It is the substitute for bread during Passover, a holiday in which Jews refrain from eating bread, leavened products, or the five grains known as barley, spelt, rye, oats, and wheat in any processed form except dry-roasting and as matzo.
There are several different types of matzo (not all of which are kosher for Passover), and a wide variety of applications for the food product. It can be eaten simply as a cracker, used as a pasta substitute in lasagna, or ground to produce coarse or fine matzo meal, which is used to make matzo balls for soup or as a breadcrumb-like binder for kugel and other casseroles. Have you ever had matzo?
Source: Flickr User ydhsu