What Is North Carolina-Style Barbecue?
A Smoky Tour of Regional Barbecue: North Carolina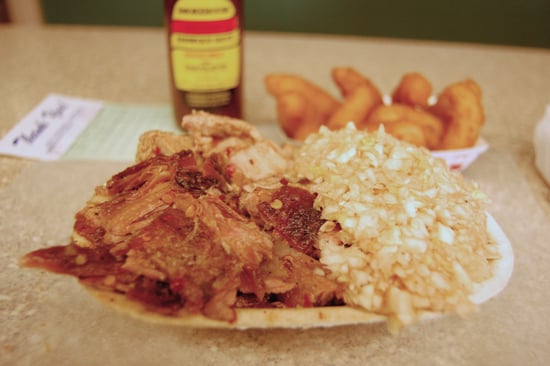 We started west of the Mississippi, examining Texas- and Kansas City-style barbecue, then moved onto the Bluff City, Memphis, for its take on slow-smoked meat. Now we've hit the Atlantic coastline for a cool sea breeze and an overview on North Carolina's smoky eats.
You may have heard that Carolinians distinguish between barbecue from the East and barbecue from the West. Two characteristics hold true for traditional barbecue from either place: in a region where the cattle industry struggled, pork is king, and it's usually served pulled and/or chopped into juicy, bite-sized morsels (often to serve in a sandwich topped with coleslaw). But here the similarities end. Eastern Carolina barbecue uses the whole hog, and then the tender meat is pulled off the carcass to be chopped. While smoking, the meat is mopped with a salted and spiced vinegar mixture to hydrate and season the meat.
Western Carolina-style barbecue (sometimes known as Lexington-style) uses the pork shoulder, a fatty cut of meat, and tends to be moister than the mix of meats in barbecue from the East. Here, the sauce is tomato- or ketchup-based, and restaurants serve up what's known locally as "the brown": the meat exposed to the wood coal smoke on the outside of the shoulder cut.
Expect your barbecue plate to come with a tangy vinegar-based slaw, some piping hot hush puppies, and a heaping serving of pride. Have you tried either style of North Carolina barbecue? Did you have a preference?