What to Pair With Szechuan Food
Tsingtao Beer: The Perfect Foil to Szechuan Spice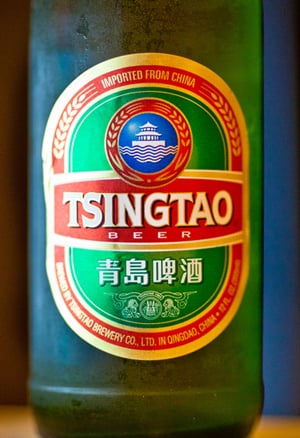 Szechuan food originated from the Southwest part of China and is beloved for its numbing spiciness, especially due to the Sichuan peppercorns and chili peppers, both staples in Szechuan cuisine. It's easy to go overboard in hotness factor, so if you find yourself coughing and steam blowing out of your ears, whatever you do, don't reach for water or tea. Reach for a traditional Chinese beer instead.
Spicy oils will spread over your tongue and burn further if you try to wash them down with water. Many people will recommend drinking milk or eating some form of dairy, but it's unlikely that you'll find dairy in a Chinese restaurant. Plain white rice can ease some of the burn, but I find the most delicious, refreshing way to neutralize your sizzling buds is through Tsingtao Lager, a well-known Chinese beer.
Tsingtao has been in production since 1903, is the number one consumer product exported from China and the best-selling Chinese beer. Its sweet, malty flavor and cooling, crisp bubbles will cut through any overbearing spiciness and perfectly complements traditional Szechuan dishes like ma po tofu. How do you get rid of spicy flavors on your palate?
Source: Flickr User Sean Davis