What's in Pickling Spice?
Know Your Ingredients: Pickling Spice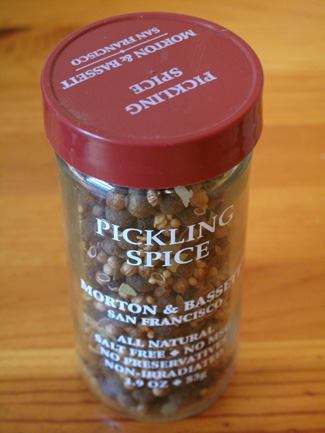 It wasn't until St. Patrick's Day was on the horizon that I started using pickling spice. Before that, I was barely aware of its existence.
When you purchase pickling spice at the store, what you're actually buying is a blend of spices, such as cassia bar, mustard seeds, coriander, allspice, peppercorns, juniper berries, dill seeds, fennel seeds, celery seeds, bay leaves, ginger, mace, and hot red pepper.
The mixture, which may vary by spice supplier, is used for pickled, canned vegetables such as cabbage, onions, and bread-and-butter pickles; fish, like salmon and herring; and meat dishes, such as Irish corned beef and German sauerbraten.
Pickling spices are generally left whole, so as not to cloud the brine, and they're usually tied in a cheesecloth or sachet for easy removal after cooking. What do you use pickling spices for? Have you ever blended your own?