What Is Porchetta?
Know Your Ingredients: Porchetta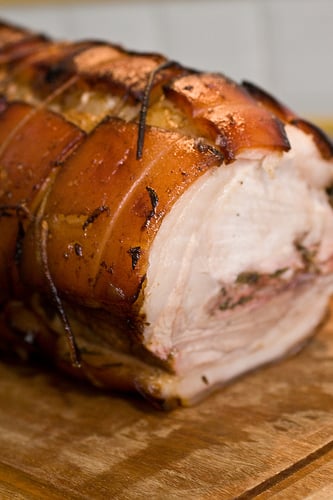 If there's one ingredient that may be able to oust bacon as the prized protein of the moment, it's porchetta. It's been appearing everywhere in farmers markets, Italian restaurants, and sandwich shops around San Francisco.
Pronounced "por-ketta," porchetta is an Italian specialty of slow-roasted suckling pig. A young, milk-fed piglet is gutted, deboned, stuffed with a mixture of garlic, herbs, and seasonings, then roasted whole in a wood-burning oven.
Porchetta originated in Lazio, a region of west central Italy, where it was probably a mountain food eaten during wintertime feasts. The specialty has since become entrenched in much of the country's culinary tradition. In Umbria, porchetta is flavored with fennel in garlic; in Rome, rosemary and garlic; in the Marches, wild herbs; and in Sardinia, myrtle leaves.
Sometimes referred to as "Italian pulled pork," porchetta is succulent, extremely fatty, and savory. In Rome, it's popular for street vendors to serve it sliced and sandwiched between a roll. Have you ever tried porchetta?
Source: Flickr User Pedro Angelini