What Is Purslane?
In Season: Purslane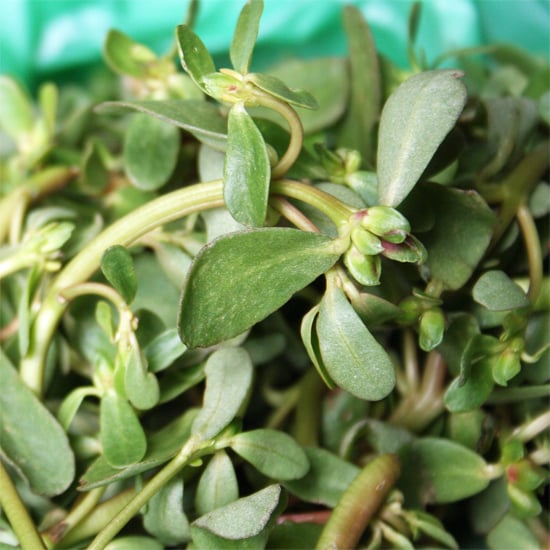 If you're a fan of leafy greens like arugula, keep an eye out for purslane. It's reasonably priced, with a creamy consistency and spinach-like flavor, and it's available at farmers markets between April and November. Never heard of the plant? It has roots in Middle Eastern, Asian, Mediterranean, and Mexican cuisine, which is proof that the flavor is versatile enough to use in a myriad of foods.
Purslane's stalks have clusters of rounded, jade-green leaves, making it easily distinguishable from other greens. When selecting purslane (which is also sometimes known as verdolaga), look for bright green and plump leaves. While some farmers may choose to bunch the stalks like basil or fresh spinach, more than likely you'll see a heap of purslane, loosely tangled and stacked high in a basket to bag yourself.
Like other delicate salad greens, purslane tastes best when it's raw. For a few more suggestions of how to cook with it, keep reading.
For a simple incorporation, toss purslane in with your standard greens mix; it'll add a richer mouthfeel to your salad.
Garnish soups or tacos with a sprig of purslane.
Try making a green juice or shake with purslane in place of spinach or kale.
Have you ever tried purslane?