What to Put in Greek Yogurt
For a Fresh Start, Reach For These Greek Yogurt Mix-Ins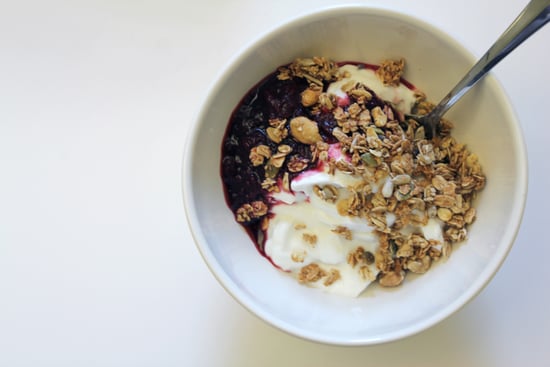 While I appreciate and admire anyone who is able to fit in a solid, satisfying breakfast before heading to work in the morning, I just can't relate. Most days it's a race out the door, and taking time to sit down and eat just isn't a priority (or a possibility). That said, I've come to love Greek yogurt, mostly because I can buy a tub of it on my way to work, and the possibilities are nearly endless when it comes to delicious mix-ins. The beauty of Greek yogurt is that it lends itself well to so many other flavors without being overpowering. For some tasty and inventive ways to enjoy Greek yogurt, keep reading.
Jam and granola: Though this may seem pretty straightforward, it's full of different flavors and textures. Use your favorite jam flavor and mix one tablespoon or so into your bowl of Greek yogurt. Top it with a granola that you like for textural contrast.
Honey and sliced almonds: Keep it simple and straightforward with a drizzle of honey and a sprinkle of sliced almonds. Though this combination might not sound particularly exciting, you'll be surprised by how well these flavors go together.
Canned pumpkin and cinnamon: If you love pumpkin pie and want to re-create the flavors of Fall all year long, mix a few tablespoons of canned pumpkin into your yogurt and sprinkle with cinnamon.
Chopped red onions and pumpkin seed oil: For a savory option, finely chop red onions and add them to your bowl of yogurt. Drizzle with pumpkin seed oil, sprinkle with salt and cracked black pepper, and enjoy it as a spread for toast or vegetables.
Strawberries and brown sugar: This combination actually tastes like the most indulgent dessert in the world, and the best part is, it's a totally acceptable breakfast! Cut up fresh strawberries, throw them into your Greek yogurt, and sprinkle with a couple of teaspoons of brown sugar.
What do you like to mix into your Greek yogurt?