What Is South Carolina Barbecue?
A Smoky Tour of Regional Barbecue: South Carolina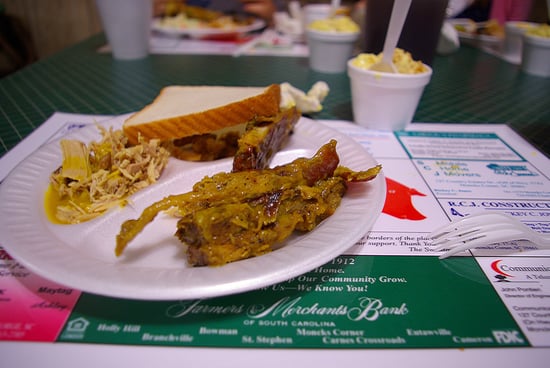 We've traveled through the heartland to examine iconic regional barbecue styles, but the birthplace of this nation's smoky tradition lies in South Carolina. In a marriage of the perfect meat with the perfect cooking process, Spanish explorers and their European pigs traveled here in the 17th century and happened upon the American Indians and their slow cooking method with smoke. Long before the region gained the name it boasts today, people were enjoying tender pork thanks to this merging of cultural traditions.
The barbecue developed in South Carolina is not unlike that of its Northern counterpart — with one key difference. Like North Carolinian barbecue, the smoked meat on the coast (the "Pee Dee" region) uses the whole hog with a spicy, vinegary sauce applied during cooking. And in the western part of the state along the Savannah River, the sauce integrates ketchup while the meat of choice is the moister, fattier shoulder. But travel to the Midlands, and you'll come across Carolina gold: a mustard-based sauce traced to early German settlers in the 18th century. South Carolina is perhaps best known for this contribution to barbecue culture, as no other state has adopted mustard sauces with the same fervor.
Take the tour of America's other iconic barbecue regions: