What Is Texas Barbecue?
A Smoky Tour of Regional Barbecue: Texas
We recently took a look at what barbecue meant across America, but, as a native Texan, I dare say that no state has more passion for barbecue than Texas.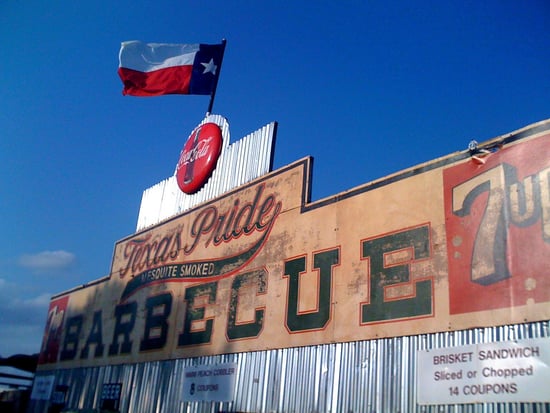 I have fond memories of entering smoky barbecue joints, where I would make my meat selection, served casually on a styrofoam plate, then head over to the checkered cloth picnic tables, swinging my legs cautiously over the benches to slide into a small space in the crowded bench. I feasted on melt-in-your-mouth tender brisket with a caramelized, crunchy exterior. Depending on the joint, the brisket was either served with buttery green beans and mashed potatoes or sweet baked beans and cornbread. But one thing was for certain: it was much less about the sides, and all about the meat.
Texas barbecue originated in the 1850s; German and Czech settlers opened meat markets when they moved to the state and brought over their native practices of smoking leftover meats that hadn't been sold that day. It was a way of preserving the meat, and Texans took a major liking to it! Keep reading for more about the origins of Texas barbecue.
While other states may focus on ribs and pork, Texans tend to be fanatical about beef brisket, which is marinated in a sweet, tomato-based sauce, then slowly smoked with wood chips. A variety of wood chips like hickory, pecan, oak, and mesquite impart unique, campfire-like flavor to the meat: anyone who's eaten lunch at a Texas barbecue stand knows it's nearly impossible to air out the smell from your clothes once you've entered the building.
I grew up eating barbecue in San Antonio, Houston, and Dallas — all cities with excellent barbecue — and every region of Texas claims to have the best brisket cooking method, whether it's marinating the meat then smoking it, rubbing the beef with dry spices then smoking it, or cooking it on direct heat. The important takeaway? When entering a Texan barbecue joint, order as the people do, so you're guaranteed to cash in on the best that the place has to offer. If everyone's eating thinly sliced brisket, sans bread or sauce, then that's what's for dinner! If people are ordering the chopped brisket sandwiches, oozing with a sticky sweet barbecue sauce on a Wonder Bread bun, go for it! Do you have any Texas barbecue memories that are worth repeating?