What Is Tiradito?
Definition: Tiradito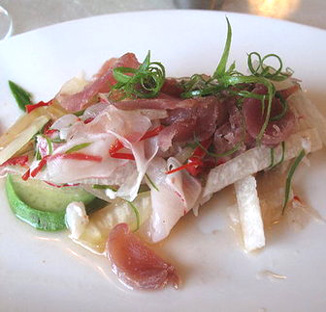 Derived from the word tirar, which means "to throw," tiradito is the Peruvian cousin to crudo, sashimi, and ceviche. This raw seafood dish can be executed with a wide variety of fresh catch, from white-fleshed fish to shellfish and even octopus. Seafood is prepared in wafer-thin slices, and dressed cold with a light marinade that typically includes lime juice, and may also include olive oil, ginger, and various ají peppers. Unlike ceviches, tiraditos don't typically contain onions.
Lately, I've spotted tiradito on an increasing number of menus. Have you ever tried it?