What Would You Want Out of an Emeril Food Truck?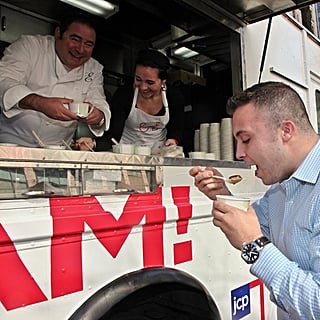 Emeril Lagasse celebrated the launch of his cookware line at JC Penney last week by serving gumbo from a truck outside the retailer's New York City flagship store. It was fun to imagine him competing with other food trucks for lunchtime orders, but Lagasse told us he's not setting up a mobile restaurant of his own just yet.
"We don't have any on the horizon right now," he said. "I'm going to talk to Martha [Stewart] later and we'll see what happens."
Still, he seemed pretty intrigued by the idea. "What would you want out of an Emeril food truck?" he asked after a pause. "Gumbo? Barbecue shrimp? Po'boys?" For us, the answer is a hearty "all of the above," but we figured we'd help him out by crowdsourcing a few more opinions.